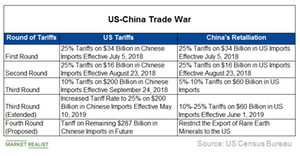 Next Chapter in US-China Trade War and US Semiconductor Industry
The next chapter in the US-China trade war
Technology IP (intellectual property) is the center of the US-China trade war. The United States has restricted technology transfers to China's Huawei and its alliances to protect national security. On May 10, the United States imposed 25% tariffs on $200 billion worth of Chinese imports. In retaliation against these tariffs, China will bring into effect its 10% to 25% tariff on $60 billion worth of US imports on June 1.
As China is left with no more imports to levy a tariff on, it's using other means to retaliate. In The Art of War, Sun Zu said, "What is of supreme importance in war is to attack the enemy's strategy."
Article continues below advertisement
China threatens to restrict rare earth minerals exports
While the United States has restricted export of critical technology to China, China is threatening to restrict the import of 17 rare earth minerals, of which some are used in the manufacturing of electronics, hard computer discs, computer memory, electric car, and smartphones.
China is the world's largest producer of rare earth minerals accounting for ~70% of the global output. The United States imports around 80% of its rare earth minerals from China. The United States did not impose nor plans to impose tariffs on the import of rare earth minerals from China, indicating its heavy dependence on China.
While the United States may seek Malaysia as an alternative supplier of rare earth minerals, Malaysia cannot supply the required quantity. If China restricts rare earth exports, it could significantly impact US technology and manufacturing industries. China has imposed a 25% tariff on American imports of rare earth minerals.
Semiconductor industry
The VanEck Vectors Semiconductor ETF (SMH) is already trading below its 200-day MA (moving average), indicating another technical downturn. Semiconductor stocks fell as tariffs slowed 2018 holiday season demand, leaving the industry with excess inventory.
A restriction on rare earth minerals would hurt semiconductor companies' manufacturing capacity and create a supply shortage, impacting their revenue further. It would be difficult to quantify the impact of such a restriction on chipmakers' earnings. The SMH could plunge to the December 2018 level or even lower if the trade war aggravates.