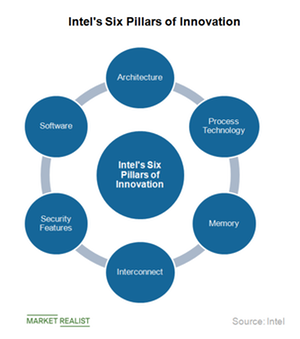 Intel's New CEO Accelerates Its 10 nm Product Launches
Accelerating innovation
Intel (INTC) is streamlining its addressable markets to tap AI and 5G technologies. On Intel's first-quarter earnings call, CEO Bob Swan stated that there's no one-size-fits-all solution for diverse workloads, so the company plans to leverage the breadth of its portfolio in process technology, architecture, memory, interconnect, security features, and software to capitalize on a variety of data-centric opportunities.
Article continues below advertisement
Article continues below advertisement
Swan explained his point using the example of Intel's latest win in the exascale supercomputer space. He stated that Intel will provide a host of computing solutions to power the US Department of Energy's Argonne National Laboratory's supercomputer, Aurora. Aurora will use Intel's next-generation Xeon Scalable processor, Xe graphics compute architecture that's still under development, a future generation of 3D XPoint–based Optane persistent memory, and Intel's One application process interface software.
Intel accelerates innovation in process technology
Intel has also provided an update on its long-delayed 10 nm process node, which was originally planned to launch at the end of 2016. Swan was tasked with accelerating the launch of the company's 10 nm products, as the delay saw Intel lose its process node advantage over rival Advanced Micro Devices (AMD), which has already launched its 7 nm products.
According to Swan, Intel is on track to qualify its first 10 nm Ice Lake processors for laptops in the second quarter and to bring the laptops powered by these processors to market by the holiday season. He stated that Intel is also accelerating the launch of its 10 nm Ice Lake server processors to early 2020 instead of late 2020.
Micron Technology (MU) accelerated its transition to advanced nodes to close the technology gap with rivals Samsung and SK Hynix. This move helped it reduce its production costs and improve its profit margins.