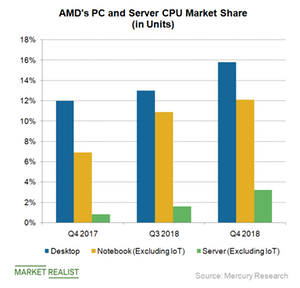 Intel Is Focused on Improving the Execution of Its 10 nm Products
Correlation between product implementation and market share
In a dynamic market such as technology, strong product execution can make a difference in market share. The best example of the effects of strong product implementation is a comparison of Advanced Micro Devices (AMD) and Intel (INTC).
In the past, AMD delayed its product launches, which made its technology obsolete and took away its market share.
Article continues below advertisement
AMD improved its product execution in 2017, which helped it gain market share in the PC and server CPU (central processing unit) market. According to data from Mercury Research, between the fourth quarters of 2017 and 2018, AMD's server CPU market share rose from 0.8% to 3.2%, its desktop CPU market share rose from 12% to 15.8%, and its notebook CPU market share rose from 6.9% to 12.1%.
AMD's market share by unit rose as Intel suffered from CPU supply shortages, because of which the latter adjusted its supply by prioritizing high-end server and PC CPUs over mid- and low-end CPUs. Intel's supply shortage delayed PC and server OEMs' (original equipment manufacturer) product launches, encouraging them to switch to AMD's CPUs.
Improving execution
On Intel's first-quarter earnings call, CEO Bob Swan stated that the company would continue to adjust its CPU supply until the third quarter. He stated that Intel would improve its execution and ensure there were no supply constraints by increasing its capacity. AMD is seeing the increasing adoption of its 7 nm CPUs by PC and server OEMs as it gains a technology node advantage over Intel.
Swan was tasked with improving Intel's 10 nm product execution to remain competitive in its core PC and server markets. On the company's first-quarter earnings call, he stated that it had increased the velocity of the 10 nm chip's transition to factories twofold, meaning that it will be able to ship more 10 nm Ice Lake processors in the fourth quarter than previously indicated.
Strong execution could help Intel regain the market share it lost from AMD. However, several rumors state that Intel's complete 10 nm product portfolio of desktop, laptop, and server processors won't be out before 2022, whereas AMD's complete 7 nm portfolio will be out in 2019 and early 2020. It remains to be seen how Intel will execute its 10 nm product releases.