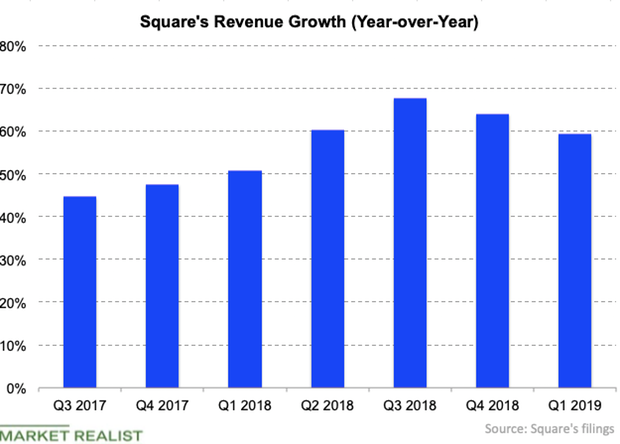 How Square Fared in the First Quarter
Square generated $489 million in adjusted revenue
Payments company Square (SQ) reported its first-quarter 2019 results on Wednesday, May 1. Its stock plunged over 12% after it announced poor guidance for the first quarter, earlier this year. Square has generally beaten Wall Street estimates over the past few years, causing the stock to rise by over 270% in the last two years. However, the stock is down 25% since its peak in September 2018 due to moderating expectations.
Article continues below advertisement
Article continues below advertisement
The company reported adjusted revenue of $489 million for the first quarter, a 59.3% YoY increase. Square earned $0.11 per share on an adjusted basis in the first quarter compared to adjusted EPS of $0.06 in the same quarter last year. Analysts had expected adjusted EPS of $0.08 on revenue of $479.6 million.
Square's revenue growth continues to slow down
However, as the graph above shows, the company's revenue growth has decelerated in the last couple of quarters. The company's adjusted revenue grew at nearly 68% YoY in the third quarter of 2018. The company's net loss has also increased to $38 million in the first quarter of 2019 from $24 million in the corresponding quarter of last year.
The company reported that its gross payment volume was up 27% YoY to $22.6 billion, which also slowed down. As a result, Square's stock declined over 6% in after-hours trading on Wednesday.
What's more, the company expects growth to slow down further. It expects adjusted revenues of $545 million to $555 million for the second quarter, which would represent a further slowdown.
The company has now posted a net loss in four of the last five quarters, which does not bode well for the company, especially with revenue growth slowing.