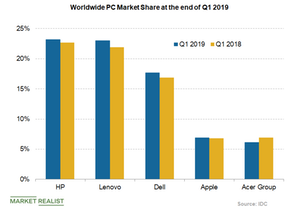 How Is HP Placed Compared to Peers in Global PC Market?
HP leads the global PC market
According to research firm IDC (International Data Corporation), HP (HPQ) regained its top spot in the worldwide PC (personal computer) space with a market share of 22.3% at the end of Q1 2019, primarily due to the end of support for Windows 7. Reportedly, the company performed well in Japanese markets during the quarter.
China's (MCHI) (FXI) Lenovo (LNVGY), which had surpassed HP in the previous quarter, has become the second largest player in the global PC market, excluding the Fujitsu joint venture volume in Q1 2018. While Lenovo holds a 23% market share, the other leading players in the PC market include Dell (DVMT), Apple, and Acer Group with shares of 17.7%, 6.9%, and 6.1%, respectively.
Article continues below advertisement
Declining PC shipments
According to IDC, worldwide PC shipments fell 3% YoY in Q1 2019 due to the ongoing trade war worries between the US and China and a supply shortage of PC CPUs (central processing units).
HP's shipments have also dropped 0.8% in Q1 2019 to 13.58 million from 13.69 million in the prior-year quarter despite attaining the first place in the PC space in terms of market share. Only Lenovo and Dell have witnessed shipments growth in Q1 2019 to 13.4 million and 10.4 million, respectively, higher than the year-ago quarter's shipments of 13.2 million and 10.2 million, respectively, reportedly due to strong sales in desktop PCs.
Apple's Mac sales dropped 0.5% YoY to 4.1 million in Q1 2019, probably due to the butterfly keyboard issues in the MacBook products, including MacBook Air and MacBook Pro. The problem is also hurting the newest Mac notebooks.