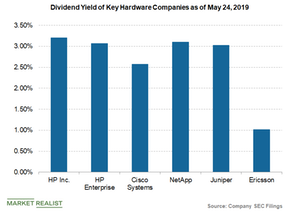 How HP's Dividend Yield Stacks Up with Peers
HP's cash flows
HP (HPQ) generated free cash flow of $747 million in the second quarter of fiscal 2019, while cash flow from operations was $861 million. HP continues to expect fiscal 2019 free cash flow of at least $3.7 billion and plans to return approximately 75% of free cash flows to shareholders.
Article continues below advertisement
Share buybacks and dividends
HP has been increasingly rewarding its shareholders with dividend payments and share buybacks, owing to strong cash flows. HP returned 83% of its free cash flow to its shareholders via dividends and share buybacks in fiscal 2018, while the company returned 69% of the free cash flows to its shareholders in fiscal 2017. In the second quarter of fiscal 2019, HP returned over 100% of free cash flows to shareholders. During the second quarter, the company spent around $0.9 billion in cash to repurchase shares worth $691 million and for paying cash dividends of $245 million.
HP pays a cash dividend of $0.1602 per share in the second quarter, which comes to an annual dividend of $0.64 per share. HP has a dividend yield of 3.2% as of May 24, 2019, and a payout ratio of 31.7%.
HP has a higher dividend yield in comparison to its peers. The dividend yields of Hewlett Packard Enterprise (HPE), Juniper (JNPR), NetApp (NTAP), Cisco Systems (CSCO), and Ericsson (ERIC) stand at 3.07%, 3.02%, 3.10%, 2.57%, and 1.02%, respectively.