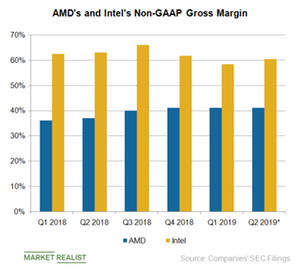 Highs and Lows in AMD's and Intel's Gross Margin
<p>In the manufacturing sector, gross margin is an important fundamental, as it significantly impacts a company's earnings per share.</p>
What constitutes gross margin?
In the manufacturing sector, gross margin is an important fundamental, as it significantly impacts a company's earnings per share. In the technology industry, especially the highly competitive semiconductor market, companies invest in the advanced node to produce high-tech products at a lower cost.
In the case of Advanced Micro Devices (AMD) and Intel (INTC), their gross margins are a product of ASP (average selling price), cost per unit, and volume. The ASP is influenced by product mix. AMD's strategy is to increase its ASP by shifting its product mix to higher margin Ryzen, EPYC, and Radeon processors.
Article continues below advertisement
Article continues below advertisement
AMD's first-quarter gross margin
In the first quarter, AMD's non-GAAP (generally accepted accounting principles) gross margin expanded 470 basis points YoY to 41% despite a 23% YoY decline in revenue. This was its eighth straight quarter of YoY gross margin expansion. On the other hand, Intel's (INTC) non-GAAP gross margin fell 400 basis points YoY to its two-year low of 58.3%. AMD's gross margin benefitted from richer product mix, whereas Intel's gross margin was impacted by higher cost.
AMD's product mix
At the first-quarter earnings call, AMD's chief financial officer Devinder Kumar stated that the gross margin of semi-custom chips and consumer graphics cards is lower than its corporate average gross margin. In contrast, the gross margin of data center CPU (central processing unit) and GPU (graphics processing unit) is higher than its corporate average gross margin. In the first quarter, revenue from semi-custom and consumer GPU fell, while that from data center chips rose, thereby shifting the mix to high-range products that command higher ASP.
AMD expects the trend to continue in the second quarter and is, therefore, guiding for a gross margin of 41%. It expects its full-year 2019 gross margin to reach 41%, in line with its long-term target of 40% to 44% gross margin.
Intel's production costs
At the first-quarter earnings call, Intel's CEO Bob Swan stated that the transition cost of the 10-nm (nanometer) node and significant declines in NAND (negative AND) ASP offset the benefit of higher PC ASP, thereby pulling down the gross margin. Intel expects the gross margin to improve 100 basis points sequentially to 60.3% in the second quarter as the 10-nm cost falls. It expects to maintain its full-year 2019 gross margin above 60%.
Check out all the data we have added to our quote pages. Now you can get a valuation snapshot, earnings and revenue estimates, and historical data as well as dividend info. Take a look!