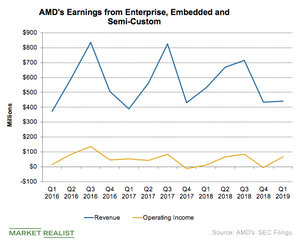 Here Are AMD's Future Growth Drivers
AMD's Enterprise, Embedded, and Semi-Custom business
Advanced Micro Devices (AMD) is a small competitor in the CPU (central processing unit) and GPU (graphics processing units) space but a market leader in the game console market, as Sony and Microsoft use its semi-custom chips for its game consoles. AMD is also looking to become a relevant competitor in the server CPU space with EPYC CPU.
AMD's EESC (Enterprise, Embedded, and Semi-Custom) segment includes data center CPUs, semi-custom chips for game consoles, IoT (Internet-of-Things) devices, and licensing revenue. As the segment earns a major portion of its revenue from semi-custom chips, the second and third quarter is seasonally strong as game consoles prepare for the holiday season. The fourth quarter is the weakest.
Article continues below advertisement
EESC's 2014 and 2015 performance
Back in 2014 and 2015 when AMD lost PC and server CPU market share to Intel, the semi-custom business brought in revenue and kept the company operational. However, low-margin semi-custom chips led to multiple years of losses. Over the last three years, AMD has been revving up its EESC segment by increasing the mix of high-margin server CPUs, getting more licensing deals, and shifting to next-generation semi-custom chips, which command a higher price.
2016 performance
EESC's revenue rose 31% YoY in the third quarter of 2016 as it supplied higher variant semi-custom chips for upgraded Sony PlayStation 4 Pro. In the same year, AMD licensed its x86 server CPU IP (intellectual property) to THATIC (Tianjin Haiguang Advanced Technology Investment).
Article continues below advertisement
2017 and 2018 performance
In 2017, AMD launched its first-generation EPYC server CPU, codenamed Naples, but it started realizing revenue from this CPU in 2018 because of the lengthy data center qualification process. EPYC drove EESC's YoY revenue in the first half of 2018.
2019 performance
EESC's first-quarter revenue fell 17% YoY to $441 million as strength in server CPU was more than offset by weakness in semi-custom. EESC reported operating income of $68 million thanks to $60 million in licensing fees from THATIC. Without this licensing revenue, the segment barely was at break even.
EESC has low operating income as it spends a huge sum on developing server chips and its major source of cash flow, semi-custom, is slowing. AMD expects this situation to continue in 2019 as semi-custom revenue continues to fall and data center revenue picks up. However, operating expenses also pick up.
Check out all the data we have added to our quote pages. Now you can get a valuation snapshot, earnings and revenue estimates, and historical data as well as dividend info. Take a look!