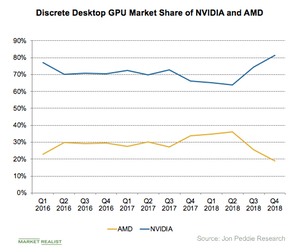 Can AMD's Navi GPUs Compete with NVIDIA's Turing-Based RTX GPUs?
AMD gives a sneak peek of Navi GPU
There had been a lot of speculation about Advanced Micro Devices (AMD) unveiling its most awaited next-generation 7-nm (nanometer) Navi GPU (graphics processing unit) at Computex 2019. AMD gave a glimpse of the Navi GPU at Computex 2019 where it revealed that the first GPU in the Navi RX 5000 series would be for desktop and will launch in July.
Article continues below advertisement
NVIDIA trademarks its GPU branding
There was a lot of speculation around the branding of Navi GPU, as AMD was never uniform with its naming. The company has adopted different naming schemes for its GPUs like Radeon HD, Radeon R5/R7/R9, Radeon RX, and Radeon VII. There were rumors that AMD would name its new Navi GPU RX 3000. NVIDIA's (NVDA) latest Turing-based GPUs are called the RTX 2000 series.
To an uninformed buyer, the higher model number means better performance, which might not always be the case. In order to protect its branding, NVIDIA filed to get trademarks for its 3080, 4080, and 5080 names with the European Union Intellectual Property Office. With this, NVIDIA looks to be secure with its branding for the next two generations.
Easing NVIDIA's concerns, AMD branded its Navi GPU as the Radeon RX 5000 series to mark its 50th anniversary.
About AMD's Navi GPU
With Navi, AMD will move to a new RDNA architecture, or Radeon DNA, which is expected to deliver 25% better performance-per-clock and 50% faster performance-per-watt compared to its older GCN (Graphics Core Next) architecture.
The first Navi GPU Radeon RX 5700 will feature GDDR6 (graphics double data rate) memory and support PCIe 4.0 (Peripheral Component Interconnect Express). It will compete with NVIDIA's RTX 2070 GPU. AMD even showcased Radeon RX 5700, beating RTX 2070 by 10% in one game. Even if Navi delivers better performance, it lacks the ray tracing feature offered by NVIDIA.
AMD will give details about the price, performance, and features of the new Navi GPU at the E3 event on June 10.
Check out all the data we have added to our quote pages. Now you can get a valuation snapshot, earnings and revenue estimates, and historical data as well as dividend info. Take a look!