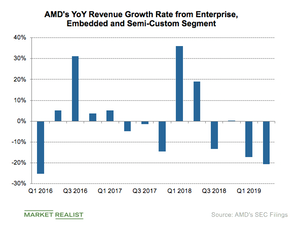 AMD's Semi-Custom Business to Fall before Expected Rise in 2020
AMD's semi-custom business
Advanced Micro Devices (AMD) is a leader in the game console market as its semi-custom chips are preferred by game console giants like Sony and Microsoft. The semi-custom chip is an APU (accelerated processing unit) that combines AMD's Zen CPU (central processing unit) and Radeon GPU (graphics processing unit).
The Semi-Custom business has a lower gross margin, as these chips command a lower price. However, it has a strong operating margin as the engineering cost is prepaid by customers.
Article continues below advertisement
Game console
Game consoles have a long product cycle. When a new game console is launched, it generates strong revenue. But with every passing year, the revenue falls, which is visible from AMD's EESC (Enterprise, Embedded, and Semi-Custom) revenue, which fell on a YoY basis in the second half of 2017 and 2018.
The game console has entered its seventh year of product cycle, because of which its revenue is declining. AMD expects its semi-custom revenue to fall more than 20% this year and return to growth next year as AMD's Zen 2 CPU and next-generation Navi GPU will power Sony's next-generation PlayStation, which is expected to launch next year.
AMD is also looking to expand its semi-custom revenue beyond game consoles but did not provide the details about the alternate markets it is targeting.
Check out all the data we have added to our quote pages. Now you can get a valuation snapshot, earnings and revenue estimates, and historical data as well as dividend info. Take a look!