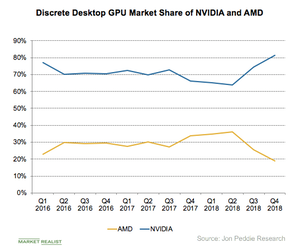 AMD to Unfold the Mystery of the 7 nm Navi GPU at E3 2019
AMD's 7 nm Radeon RX 5000 Navi GPUs
Advanced Micro Devices (AMD) closed the technology gap with Intel by announcing its 7 nm (nanometer) Ryzen 3000 series CPUs (central processing unit) and EPYC Rome server CPUs at Computex 2019.
AMD is also closing the gap with NVIDIA (NVDA) with its next-generation 7 nm Navi GPU (graphics processing unit).
At Computex 2019, AMD provided a glimpse of its first Radeon 5000 series GPU Radeon RX 5700 for desktops. The GPU is built on AMD's new Radeon DNA architecture, which is expected to deliver a 25% better performance per clock and a 50% faster performance per watt compared to its older Graphics Core Next architecture. AMD showed its Radeon RX 5700 outperforming NVIDIA's 12 nm RTX 2070 by 10% in one game.
AMD plans to launch its Radeon RX 5700 series GPU in July.
Article continues below advertisement
When will AMD offer ray tracing?
Even though AMD has a process node advantage over NVIDIA, the latter offers real-time ray tracing technology, which is the future of the gaming and visual effects industry. AMD is still far from beating NVIDIA in this technology, but the gap should reduce, meaning that NVIDIA will have to price its products competitively to retain its market share, which will affect its margins. On the other hand, AMD's average selling price will increase.
There's been a lot of speculation as to whether AMD will introduce ray tracing in future Navi GPUs. This speculation began after Sony confirmed that its PlayStation 5 would offer ray tracing and AMD confirmed that Sony's PlayStation 5 would use its custom Navi GPU.
According to PC World, AMD's CEO, Lisa Su, stated in an interview with reporters after Computex 2019 that AMD would introduce ray tracing technology across its portfolio with strong ecosystem support.
Investors should watch for AMD's presentation at E3
AMD will give details about the price, performance, and features of the new Navi GPU at E3 on June 10. The company will disclose its next-generation gaming products across PCs, consoles, and the cloud. It will reveal its GPU road map and its plans for ray tracing.
AMD and NVIDIA stocks could move in the opposite direction on June 10 if AMD's plan includes the introduction of ray tracing technology as early as next year.