AMD Is Set to Gain CPU Unit Market Share from Intel in 2019
Until recently, Intel (INTC) and Advanced Micro Devices (AMD) have been in a one-sided PC CPU war.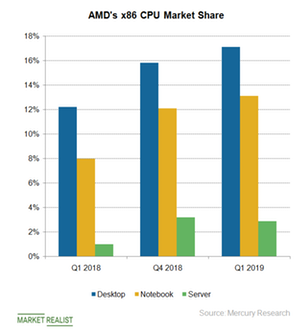 AMD's PC CPU market share
Until recently, Intel (INTC) and Advanced Micro Devices (AMD) have been in a one-sided PC CPU war, with the former owning more than an 80% market share. Intel's advanced technology previously helped it command a higher average selling price for its products, leaving the lower-margin products for AMD.
In 2017, AMD caught up to Intel and started offering a similar performance at a lower price point with its competing Ryzen CPUs. Over the years, these Ryzen CPUs have helped AMD gain market share from Intel.
Article continues below advertisement
Article continues below advertisement
According to Mercury Research, AMD increased its desktop CPU unit market share to 17.1% in the first quarter of 2019 from 12.2% last year largely because of the growing adoption of Ryzen CPUs and partly because of the CPU supply shortage at Intel. AMD's notebook CPU market share also rose from 8% to 13.1% during the same period.
AMD's 7 nm Ryzen and EPYC to accelerate its market share gains
The above market share gains came as a result of AMD's products becoming competitive with Intel's. Now, for the first time, AMD has surpassed Intel in terms of process node technology by launching its 7 nm Ryzen 3000 series, which outperforms Intel's existing CPUs in terms of both pricing and performance.
Analysts believe that AMD's new 7 nm Ryzen CPUs will accelerate its unit market share gains through 2019 until Intel launches its competing 10 nm CPUs. AMD will also launch its 7 nm EPYC Rome server CPUs in the next quarter. With this, it expects to increase its server CPU unit market share to 10% by the first half of 2020 from 3.2% at the end of 2018.
AMD is also using Intel's security flaws, such as Spoiler and Meltdown, to its advantage to market its own CPUs.
Intel will strike back
However, we can't rule Intel out. In the past, Intel has resorted to significant price cuts to protect its market share. It might resort to similar measures even now, as its 28% operating margin gives it a lot of room to cut prices, whereas AMD's 6.6% operating margin doesn't leave it with the same capability.
Intel is looking to tackle competition from AMD by accelerating its transition to the 10 nm node and beyond. It's set to launch its 10 nm notebook CPUs by the end of the year and its server CPUs by early next year.