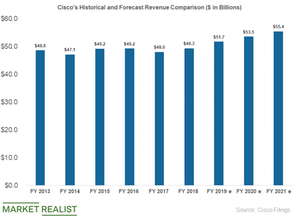 A Look at Cisco's Earnings and Revenue Growth
Several revenue drivers
Cisco (CSCO) is a giant in the hardware networking space. It's a leader in the switching, routing, applications, and security markets. The shift to 5G and the demand for cybersecurity products and collaboration applications will drive Cisco's sales higher in the coming years. Cisco generates the majority of its sales from the infrastructure platforms segment, which has been a mature industry for the past few years.
Article continues below advertisement
However, in the fourth quarter of 2018, global switching and routing sales rose in the double digits. Cisco can leverage its leadership in these verticals to drive incremental sales. Cisco is expected to increase its sales by 4.8% to $51.7 billion in fiscal 2019 and by 3.5% to $53.53 billion in fiscal 2020.
Earnings growth
Cisco has managed to grow its bottom line at a compound annual growth rate of over 7% in the last five years. Analysts expect Cisco's earnings to rise 18% in fiscal 2019. The company's non-generally accepted accounting principles EPS are expected to rise to $3.07 in fiscal 2019—up from $2.6 last year.
The company's EPS are expected to rise 10.1% to $3.38 in fiscal 2020. While Cisco's operating leverage is estimated to be 1.6x in fiscal 2019, the multiple is expected to fall to 1.13x in fiscal 2020. Cisco's operating profit is expected to rise $1.6 for every dollar of its sales in fiscal 2019.
Analysts expect Cisco's EPS to rise at a compound annual growth rate of 9.9% over the next five years.