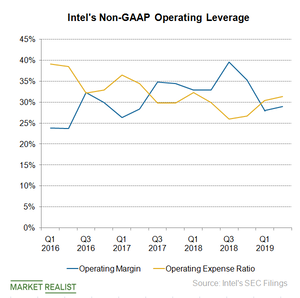 Why Intel's Operating Leverage Reversed in the First Quarter
Intel's operating margin
Intel's (INTC) profit margins started to fall in the fourth quarter of 2018 after reaching a peak in the third quarter of 2018. The margins fell as data center demand started to slow and the transition to the 10nm process node increased its cost. The first-quarter gross margin fell to a two-year low as the development costs of 10nm flowed through the cost of sales.
Article continues below advertisement
The operating margin fell faster than the gross margin, which fell by 420 basis points sequentially. This operating margin decline came as its data center operating income fell 40% and memory prices fell ~45%. Memory chipmakers Samsung (SSNLF) and Western Digital (WDC) also reported weak profit margins as memory prices continue to slide.
Intel expects the above factors to play in the second quarter as well. So it expects second-quarter operating margin to stand at 29%.
Intel's operating efficiency
Intel's new CEO, Bob Swan, is looking to streamline the company's focus on businesses that generate high returns—like autonomous driving, AI, and 5G network infrastructure. Over the last two years, Intel exited the McAfee, Saffron, Wind River, and wearables businesses, which helped it reduce its operating expense ratio from 36% in the first quarter of 2017 to 30% in the first quarter of 2019.
Intel recently exited the low-margin 5G smartphone modem business, which should help it invest more in 10-nm and 7-nm process technology, data-centric businesses, and accelerate data center and PC roadmaps.
Full-year 2019 profit guidance
Intel expects its full-year 2019 operating margin to fall by 300 basis points year-over-year to 32% and its gross margin to come in around 60%. This outlook indicates that operating expenses will decrease by $1 billion in 2019. On the first-quarter earnings call, Intel CFO George Davis stated that maybe 20% to 30% of this $1 billion decline in expenses would come from the 5G smartphone modem exit. However, he stated that this is just a rough estimate since it's not yet known how the 5G smartphone modem exit would affect the spending rate.
Check out all the data we've added to our quote pages. Now you can get a valuation snapshot, earnings and revenue estimates, and historical data as well as dividend info. Take a look!