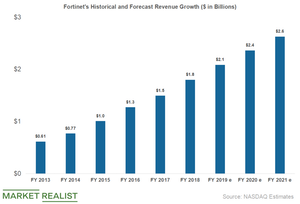 What Are Fortinet's Key Revenue Drivers for 2019 and Beyond?
Portfolio of products
In 2018, Fortinet's (FTNT) sales were driven by enterprise product refresh cycles. Now the company expects robust revenue growth to continue over the next few years. What's likely to drive sales growth for Fortinet? Fortinet's portfolio of integrated SD-WAN (software defined wide area network) and 5G products are expected to allow the company to take advantage of the transition to cloud and edge computing.
Article continues below advertisement
In the fourth quarter of 2018, Fortinet signed a seven-figure contract with a large European retailer that has over 4,000 stores across 26 countries. It won the contract as the company could integrate SD-WAN functionality and security into a single device. The company expects strong adoption of its secure SD-WAN offering over the next few years.
It announced a new high-performance E-series product earlier this year. This coupled with Fortinet's security processor unit (or SPU) provides the firm with a competitive advantage. According to Fortinet, SPU technology delivers 10x performance compared to other approaches. The E-series will enable enterprises to implement Intent-based segmentation. This, in turn, will provide easier access control, end-to-end visibility, and ATP (automated threat protection).
In the last quarter, Fortinet and Symantec (SYMC) partnered to provide enterprises with robust security solutions across cloud and endpoint networks.
Sales estimated to rise 16% in 2019
These factors will likely impact Fortinet's sales in the coming years. Analysts expect Fortinet's sales to rise 16% in fiscal 2019 to $2.09 billion, 13.2% in 2020 to $2.37 billion, and 11% to $2.62 billion in 2021.
Sales for peers Palo Alto Networks (PANW), Check Point (CHKP), and Proofpoint (PFPT) are estimated to rise by 26%, 4.1%, and 22%, respectively, this year.