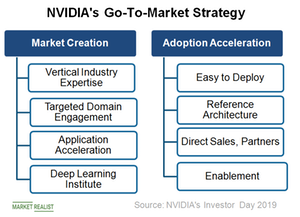 NVIDIA's Go-to-Market Strategy Differentiates It from Competitors
NVIDIA's go-to-market strategy
For any business to grow, it needs a good product and a strong go-to-market strategy to put the product in the hands of the consumer. Many companies have overtaken their competitors because of their strong go-to-market strategy. For instance, Micron (MU) has accelerated its go-to-market strategy to bring the most advanced technology to customers first.
In NVIDIA's (NVDA) case, its go-to-market strategy is different, as many customers are not able to leverage the full potential of its most advanced GPU (graphics processing unit) technology. NVIDIA's strategy has two phases: market creation and adoption acceleration.
Article continues below advertisement
Market creation
At the 2019 Investor Day, NVIDIA's executive vice president of Worldwide Field Operations, Jay Puri, explained that the company has moved from general-purpose computing to domain-specific acceleration to boost GPU adoption. The company first identifies the industry verticals it wants to enter, identifies the domain within the industry, works with industry leaders to understand the pain points, and accelerates certain applications to resolve those pain points. For instance, NVIDIA is working in the medical imaging domain within the healthcare industry, wherein its CLARA application aims to help improve image quality.
Jay Puri stated that once an industry problem is resolved, NVIDIA uses its Deep Learning Institute to explain the capability and make the solution available to industry players.
Adoption acceleration
Once NVIDIA has created the market for its product in a particular industry, it has to make its products easy to deploy. It does so with the help of NGC (NVIDIA GPU Cloud). Jay Puri explained that NGC is a software hub where NVIDIA containerizes all the frameworks and open-source RAPIDS algorithms for deep learning and machine learning. It also provides the training scripts and pre-trained models for these frameworks such as object detection and natural language processing. Industry players can just pick the already available models and optimize them for their specific work.
NVIDIA is further refining the libraries by putting in key industry workflows for medical imaging and intelligent video analytics in the NGC. These software efforts have accelerated the uptake of NVIDIA's GPUs across different industry verticals and will ensure strong data center growth for a longer term.
Check out all the data we have added to our quote pages. Now you can get a valuation snapshot, earnings and revenue estimates, and historical data as well as dividend info. Take a look!