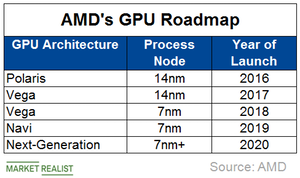 NVIDIA Unlikely to Compete with AMD on 7-nm Node
AMD in ray tracing
Advanced Micro Devices (AMD) is working on ray tracing technology and plans to introduce this technology in its future GPUs (graphics processing unit) in order to compete with NVIDIA's (NVDA) RTX GPUs. RedTechGaming reported that AMD may launch ray tracing as early as 2020 in its Navi 20 GPU, which would be built on TSMC's (TSM) 7-nm+ (nanometer) architecture.
AMD launched the industry's first 7-nm PC CPUs (central processing units) in early 2019, overtaking Intel, which is still stuck on the 14-nm node. AMD will also be the first to launch 7-nm gaming GPU, overtaking NVIDIA in process node technology.
NVIDIA is a leader in the discrete GPU market because of its advanced technology, which has remained unbeatable. As AMD overtakes NVIDIA in process node technology, it brings us to the question of when NVIDIA plans to transition to 7-nm.
Article continues below advertisement
When does NVIDIA plan to launch 7-nm GPUs?
In an interview with Synced Review, NVIDIA's CEO, Jensen Huang, stated that the company is not in a rush to transition to 7-nm GPUs, as its Turing GPUs are the most energy-efficient, even more than AMD's 7-nm GPUs. He stated that in the manufacturing process node, NVIDIA's focus is on affordable technology over power efficiency.
The above statement implies that NVIDIA is happy with the competitive performance and power efficiency that the 12-nm FinFET process offers. It is unlikely to transition to the 7-nm node in 2019. It could skip 7-nm and directly launch GPUs on a 7-nm+ or 5-nm node in 2020 or beyond. The company's current focus is on enhancing the ray tracing feature in gaming.
NVIDIA's decision to delay 7-nm does not impact its investors, as they invested in the company for its market share in high-end GPUs. However, AMD's entry in ray tracing will likely have a positive impact on its stock.
Check out all the data we have added to our quote pages. Now you can get a valuation snapshot, earnings and revenue estimates, and historical data as well as dividend info. Take a look!