NVIDIA Reaches Low-End PC Users with GeForce NOW Services
NVIDIA (NVDA) has been benefitting from the growing popularity of gaming.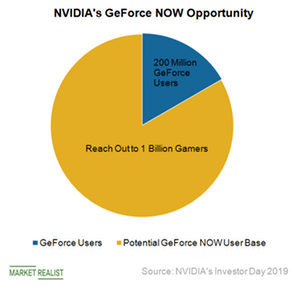 NVIDIA's GeForce NOW
NVIDIA (NVDA) has been benefitting from the growing popularity of gaming, as it supplies the most advanced gaming GPUs (graphics processing unit). NVIDIA has played a key role in bringing in new gamers by making high-end gaming available to a large audience. The company launched its Turing-based GeForce RTX GPUs at a price point of $299 to boost the adoption of RTX.
Article continues below advertisement
Article continues below advertisement
NVIDIA's current GeForce gamer base is roughly 200 million. It is looking to reach out to the entire population of gamers, including non-GeForce gamers. Its GeForce NOW service puts GeForce-gaming PC in the cloud, allowing low-end PC users to get the experience of high-performance fully interactive gaming. This service will help NVIDIA reach out to a billion more customers who do not own a GeForce GPU.
At the Investor Day 2019, NVIDIA's senior vice president of the GeForce business unit Jeff Fisher stated that the company is still enhancing GeForce NOW service. So far, it has added ~500 games on GeForce NOW, has 15 data centers, and 300,000 monthly active users, of which about 90% have underpowered PCs without GeForce GPU. Around 1 million people are on the waiting list.
GeForce NOW Alliance
NVIDIA is expanding its reach to broadband, cable, and mobile customers by partnering with telcos. Jeff Fisher stated that several telcos are interested in offering interactive gaming and VR (virtual reality) as a value-added subscription to their customers. Thus, NVIDIA created the GeForce NOW Alliance.
Jeff Fisher stated that NVIDIA has developed a server optimized for cloud gaming and is licensing the end product to GeForce NOW Alliance partners. NVIDIA has partnered with SoftBank in Japan and LG Uplus in Korea. The GeForce NOW Alliance services are expected to roll out in the second half of this year.
With this, NVIDIA's GeForce business will have three revenue streams: sales of GPU hardware, subscription fees from GeForce NOW, and licensing fees from GeForce NOW Alliance. Advanced Micro Devices (AMD) doesn't offer these services.
Check out all the data we have added to our quote pages. Now you can get a valuation snapshot, earnings and revenue estimates, and historical data as well as dividend info. Take a look!