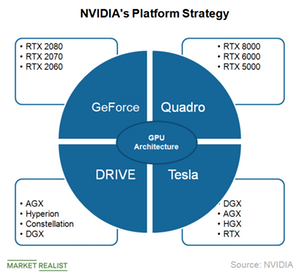 NVIDIA Broadens Product Portfolio to Tap New Computing Markets
NVIDIA's ecosystem
NVIDIA (NVDA) has grown exponentially in the last three years. Its profit rose faster than revenue as the company leveraged a single GPU (graphics processing unit) architecture across different applications and increased its ASP (average selling price). NVIDIA has a platform model in which it spends a large sum on developing one GPU architecture and then leverages this architecture on different application platforms: GeForce platform for gaming, Tesla for data center, Quadro for the workstation, and DRIVE for automotive.
Article continues below advertisement
Within each platform, NVIDIA further segments its GPUs to low, mid, and high-range segments. For instance, in GeForce, it offers high-end RTX 2080 and 2080 Ti and mid-range RTX 2070 and 2070 Ti. NVIDIA is sub-segmenting the data center Tesla platform into DGX, HGX, RTX, and AGX, all targeting different data center workloads.
NVIDIA makes changes to product strategy
In 2017, NVIDIA deviated from its product strategy and launched a Volta architecture only for AI (artificial intelligence). It launched Volta on the Tesla platform for data center and a consumer-grade Titan V GPU for AI computing in PCs.
NVIDIA is investing more on software than hardware. It is also investing in exploring new verticals where AI can make a difference and generate strong revenue for the long term.
NVIDIA is currently suffering from a short-term downturn triggered by the end of crypto-related demand and demand weakness due to the United States-China trade war. However, its long-term growth opportunity is bright, and its addressable market will likely expand as the company enters new verticals. It has collaborated with China's Baidu (BIDU) on multiple AI fronts.
Check out all the data we have added to our quote pages. Now you can get a valuation snapshot, earnings and revenue estimates, and historical data as well as dividend info. Take a look!