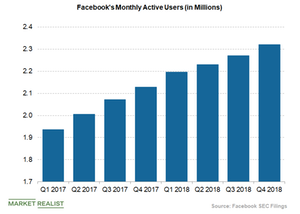 Is Zuckerberg in Trouble Again?
Zuckerberg under pressure
Article continues below advertisement
Data privacy concerns
Facebook has been grappling with mounting pressure since the FTC's (Federal Trade Commission) investigation into Facebook last year after news broke of the Cambridge Analytica scandal, which compromised the data security of ~87 million people. That breach and the possible impact of fake news have raised concerns over Facebook's business operations. Facebook currently has ~2.3 billion users globally. US and UK regulators are also pressuring Twitter (TWTR) and Alphabet's (GOOGL) Google to disclose the measures they are taking to keep users' data safe and stop fake news.