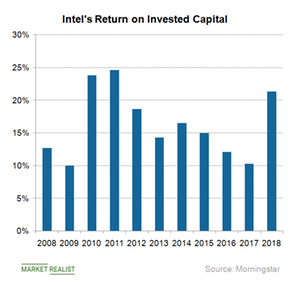 Intel's 5G Decision: Understanding the Financial Impact
By Puja Tayal

Apr. 22 2019, Published 3:02 p.m. ET
The profitability of Intel's modems business
Intel (INTC) manufactures processors for PCs and servers that carry a higher value. It tried to enter the mobile market with its Atom processors. Back in 2008, Intel prioritized the production of $29 Atom processors over $279 Penryn Core 2 chips, which cost the company a billion dollars in lost revenue.
Article continues below advertisement
Ten years later, Intel faced supply shortage as the demand for PC and data center chips rose more than expected while it was transitioning to its 10nm process, which put some capacity under construction. This time, Intel made a financially sound decision and prioritized production of server chips and high-end PC chips over low-end PC and embedded chips.
Intel's return on investment improved from 10.2% in 2017 to 21.3% in 2018. It was also greater than the 12.7% ROI reported in 2008.
Financial implications of Intel's 5G decision
Manufacturing is becoming expensive with every advanced node. Intel wants to prioritize building $700 server chips over $40 5G modems to get a better return on its investment. From the financial angle, Intel's decision to exit the 5G smartphone modem business makes sense as it's distracting the company's resources from other, more profitable businesses like data center, automotive, and AI.
The exit from the 5G smartphone modem should reduce Intel's revenue from its Client Compute business in full-year 2019 but improve its profit margins as the product mix improves. Intel's 5G decision should also bring in cost savings over the short term. Intel is to offer more details about the financial implications of the 5G decision in its upcoming first-quarter earnings, scheduled for April 25.
However, the exit from the 5G smartphone modem market could be yet another technology miss from Intel after it delayed its 10nm process by three years, giving rival Advanced Micro Devices (AMD) a technology lead of a year. AMD is to launch its 7nm server and PC processors through 2019, which should help the company gain some market share from Intel. Intel's exit from the 5G smartphone modem market should benefit Qualcomm.