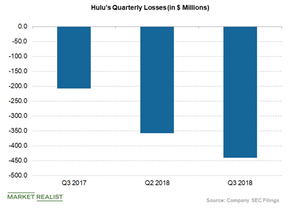 Disney to Target Kids and Adults with Disney+, ESPN+, and Hulu
By Sophia Nicholson

Updated
Disney's streaming options
Amid the growing shift from traditional cable to over-the-top streaming services, the Walt Disney Company (DIS) seems to have the upper hand in terms of streaming competition, as it can target both kids and adults through its Disney+, ESPN+, and Hulu streaming services.
Disney also plans to offer a discount to those customers who buy subscriptions to all three streaming services.
Article continues below advertisement
Disney+
Disney+ is set to launch on November 12, and it will offer a streaming library of new and iconic blockbuster movies, TV shows, and animated content on its platform for both adults and kids. Disney will, therefore, break its ties with Netflix (NFLX), on which it used to stream its movies, by the end of this year.
Disney already has a sports streaming service, ESPN+, which offers live sports, on-demand content, and original content such as 30 for 30 documentaries. The company's acquisition of Fox's assets has given it a majority stake in online streaming service Hulu, which is jointly controlled by Disney, AT&T's (T) WarnerMedia, and Comcast's (CMCSA) NBCUniversal. Hulu is expected to target mainly adults, and it's in the process of creating four adult animated series from Marvel Studios featuring Marvel superheroes. Hulu will continue to provide its own original series, such as The Handmaid's Tale and Castle Rock.
Subscribers
Disney expects to add nearly 60 million–90 million subscribers to Disney+, while it expects to attract 8 million–12 million paying ESPN+ subscribers by the end of fiscal 2024. The media giant also expects Hulu to gain 40 million–60 million subscribers in the United States by the end of fiscal 2024 and to recover from its losses by either fiscal 2023 or fiscal 2024. Hulu, which is controlled by Disney, Comcast, and AT&T, had 25 million US subscribers in 2018.
According to Securities and Exchange Commission filings by Hulu's owners, Hulu lost nearly $1.5 billion in 2018, much higher than its loss of $920 million in 2017. Hulu is also expected to lose $1.5 billion in the current year.