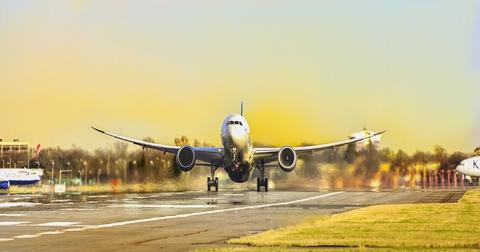 Boeing Rises after It Successfully Tests New 737 Max Software
By Anirudha Bhagat

Updated
Successful test run
On April 3, Boeing (BA) stock gained over 2% in the after-hours trading session after the company announced a successful test run for its controversial MCAS (maneuvering characteristics augmentation system), or anti-stall system. The company's CEO, Dennis Muilenburg, was at the demonstration of the said anti-stall system at Boeing Field near Seattle.
WAKE UP WITH BAGELS & STOX, OUR NEW EMAIL THAT ENTERTAINS AND INFORMS YOU BEFORE THE DAY STARTS. SIGN UP HERE!
Article continues below advertisement
The airplane manufacturer said in a statement, "The software update worked as designed, and the pilots landed safely at Boeing Field," Reuters reported. The company further stated that "Boeing will conduct additional test and demo flights as we continue to work to demonstrate that we have identified and appropriately addressed all certification requirements."
Investors also gained confidence in Boeing's claim after Norwegian Air CEO, Bjoern Kjos, tweeted on his Twitter (TWTR) account that the software fix seems foolproof. Kjos commented after he visited Boeing's Seattle-based airfield and personally tested the old and new anti-stall system in a MAX simulator, Reuters reported.
Big relief for Boeing
The successful test run of the anti-stall system implanted in the MAX series planes and Kjos's comments are a big relief to Boeing. Federal agencies and lawmakers have been scrutinizing the controversial system after two deadly crashes in six months that involved Boeing's fast-selling 737 Max jet.
Boeing uses the MCAS in its 737 Max series planes. The flight control system prevents planes from entering a stall and automatically guides the aircraft nose lower. The initial investigations of both crashes point to a fault in the MCAS system. Investigating agencies suspect that the anti-stall system might have automatically taken control during the Indonesia and Ethiopia plane crashes.
After the Ethiopia air crash on March 10, Boeing faced worldwide grounding of its 737 Max series aircraft. Several airlines have denied taking deliveries of the aircraft series until safety concerns are cleared.
Currently, Boeing has nearly 4,900 backlog orders for its 737 Max series planes worth over $550 billion. Among major US airline operators (IYT), Southwest Airlines (LUV) has placed orders for 280 jets while United Airlines (UAL) and American Airlines (AAL) have placed an order for 100 jets.