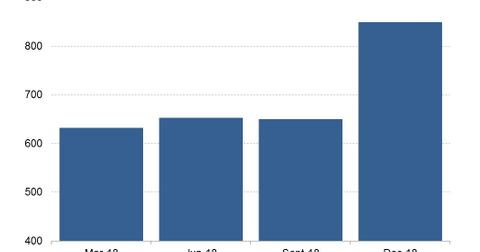 Alibaba's Recent Africa Deal Could Worry Amazon
By Neha Gupta

Updated
Alibaba adds Mpesa as AliExpress checkout option
Alibaba (BABA) this month struck a deal with Kenyan mobile operator Safaricom to allow it to add Mpesa as a checkout option for shoppers on its international marketplace known as AliExpress. Mpesa is a mobile payment platform that serves more than 21 million customers across Kenya. In addition to facilitating payments, it also provides consumer loans.
Alibaba's Mpesa partnership targets Kenyan consumers and traders who source for goods from Chinese suppliers through AliExpress marketplace.
Article continues below advertisement
Some 2.0% of Amazon merchants sell on AliExpress
AliExpress is one of the Alibaba businesses that competes with Amazon (AMZN) on the global e-commerce stage, particularly in the cross-border e-commerce segment. According to a report from Feedvisor, AliExpress is one of the rival marketplaces taking merchant customers from Amazon. As of 2018, some 2.0% of Amazon sellers had product listings on AliExpress as well. Although AliExpress's 2.0% share of Amazon sellers is significantly smaller compared to eBay's (EBAY) 52% and Walmart's (WMT) 25%, it still poses a competitive threat that Amazon can't just ignore.
Amazon's delayed uptake of Mpesa allows Alibaba to swoop in
Kenya is one of the African countries where Alibaba and Amazon are battling for e-commerce market share. And Alibaba's move with Mpesa could cause Amazon to rethink its strategy in the country. In an attempt to speed up its penetration of the Kenyan market, Amazon early this year launched a program called PayCode that allows shoppers in Kenya to pay for Amazon purchases with cash at Western Union (WU) outlets. But Amazon fell short of adding Mpesa as a payment option for its Kenyan customers, allowing Alibaba to make the first move with the ubiquitous mobile payment service.
Alibaba's international retail revenue, including contributions from businesses like AliExpress, rose 23% year-over-year to $849 million in the third quarter, which ended in December.