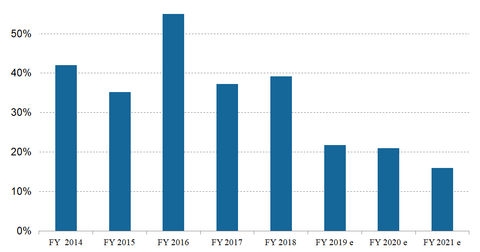 A Look at PFPT's Sales and Earnings Growth in 2019 and Beyond
By Adam Rogers

Updated
Sales expected to rise 22% in 2019
The global cybersecurity market has been growing at an impressive rate over the last few years. The increasing number of cyberattacks continues to boost demand for security products. According to market research company IDC, the worldwide security appliance market expanded close to 17% in the fourth quarter of 2018.
Analysts expect Proofpoint's revenue to rise close to 22% year-over-year to $873.33 million in 2019 compared to $717 million in 2018. It's then expected to rise 21% to $1.06 billion in 2020 and 16% to $1.22 million in 2021.
Article continues below advertisement
Earnings expected to rise close to 12.2% in 2019
Proofpoint's earnings are expected to rise at a slower pace than its sales this year. Proofpoint's non-GAAP (generally accepted accounting principles) EPS are expected to rise 12.2% from $1.47 in 2018 to $1.65 in 2019. The company's EPS are then expected to rise 37% to $2.26 in 2020.
Analysts expect Proofpoint's EPS to rise at a CAGR (compound annual growth rate) of 25% over the next five years, which, though impressive, is far below the CAGR of 87% it's seen in its EPS in the last five years.
Profit margins
PFPT's operating margin could contract from 11.7% in 2018 to 11.3% in 2019. The company's operating margin is expected to expand to 13.4% in 2020 and 16% in 2021.
Proofpoint is not yet GAAP profitable. Its net margin is expected to expand from -15.3% in 2019 to -11.4% in 2020 and -7.6% in 2021.