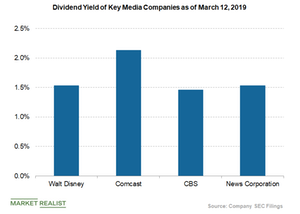 Why Did S&P Downgrade Disney's Rating?
Disney's rating
On March 12, S&P Global Ratings reportedly downgraded the Walt Disney Company (DIS) to an A from an A+, as the rating agency expects Disney to see operational risks related to its pending acquisition of Rupert Murdoch–owned 21st Century Fox (FOXA).
Disney is close to completing its acquisition of Fox's media and entertainment assets for a total of $71.3 billion. The deal will give Disney Fox's valuable film and TV studios, cable networks such as FX Networks and Fox Sports Regional Networks, Fox Networks Group, and stakes in National Geographic Partners, Indian satellite TV group Star India, Hulu, and other assets.
Article continues below advertisement
The agency's concerns
The S&P rating agency earlier gave Disney an A+ credit rating, as it believed that Disney would reduce its leverage to 2x within two years. However, according to S&P, the deleveraging process could take a little longer amid challenges, and this development could keep the company's leverage level above 2x. Nevertheless, the rating agency has maintained a stable outlook on Disney on the expectation that its leverage level won't rise above 2.5x.
Disney suspended its share repurchase program
Disney is buying Fox's assets in a half-cash, half-stock transaction. To fund the acquisition, Disney suspended its share repurchase program temporarily in the third quarter of fiscal 2018. Disney expects to resume its share repurchases after it improves its cash-to-debt ratio with a single A credit rating.
Nevertheless, Disney is paying dividends to reward its shareholders. Disney paid a semiannual dividend of $0.88 on January 10, a hike of 4.8% from the previous year. The company's new semiannual dividend of $0.88 will bring its total dividend for fiscal 2019 to $1.76 per share.
As of March 12, Disney's dividend yield is 1.53%. Meanwhile, Comcast's (CMCSA) dividend yield is 2.13% compared to CBS's (CBS) 1.46% and News Corporation's (NWS) 1.53%.