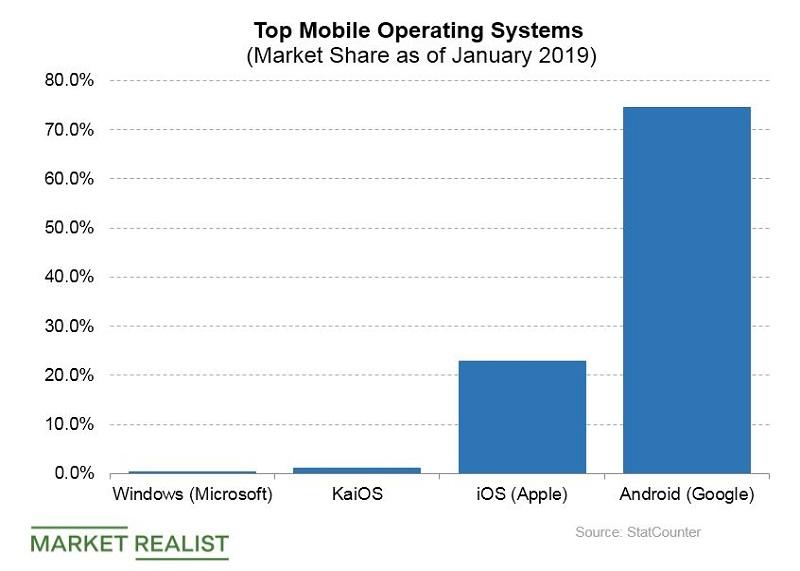 The Google-Oracle Dispute is going to the Supreme Court
Google and Oracle fight over Android
Alphabet's (GOOGL) Google is under pressure to prove it didn't violate Oracle's (ORCL) software copyright in the development of Android. After several unfavorable rulings in lower courts, the search giant has decided to take the tussle to the Supreme Court.
The multibillion-dollar case first hit the airwaves in 2010 when Oracle disputed Google's use of its software interface to develop the Android operating system, which powers the vast majority of mobile devices. Google wants the court to determine whether copyright protection extends to software interfaces and whether the way it used Oracle software for Android constitutes fair use.
Android held 74.1% of the global mobile operating system market in February, according to StatCounter, while Apple's iOS held 23.3%. Microsoft (MSFT) and Samsung (SSNLF) each held 0.3% of the market.
Article continues below advertisement
Oracle's demands
Oracle is pushing for compensation for damages from Google over the use of its software in building Android, and could walk away with up to $9.0 billion if the court decides against Google.
Facebook is also battling patent claims. Last year, BlackBerry (BB) sued Facebook and Snapchat parent Snap (SNAP) for allegedly infringing on several of its messaging patents.