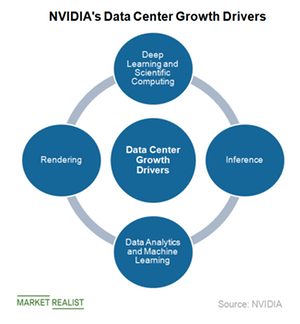 NVIDIA Taps New Growth Drivers in the Data Center Market
NVIDIA's Data Center growth drivers
Previously, we saw that NVIDIA's (NVDA) Data Center segment reported its first sequential revenue decline in more than three years in the fourth quarter of fiscal 2019 as several customers paused their capital spending. The pause in capital spending by cloud companies hit NVIDIA the hardest.
During the fiscal 2019 fourth-quarter earnings call, NVIDIA's CEO Jensen Huang stated that the pause in cloud spending is temporary and the growth will resume later in the year as demand for accelerated computing increases with the growing adoption of AI (artificial intelligence). He explained that the company is diversifying within the data center market by tapping three new growth drivers beyond DL (deep learning) and scientific computing. The three new divers are data analytics and ML (machine learning), inference, and rendering.
Article continues below advertisement
Data analytics and machine learning
Companies from healthcare to retail to insurance are adopting big data analytics and ML to solve business problems. Jensen Huang stated that NVIDIA's sales coverage doesn't allow it to reach out to these companies individually. Thus, NVIDIA has partnered with server OEMs (original equipment manufacturers) and storage vendors like Cisco, NetApp, and IBM to pre-configure systems with NVIDIA's data analytics and ML software solution called RAPIDS. The partners can sell these systems through their global channel. Enterprise is still a small portion of NVIDIA's Data Center revenue, but Jensen Huang expects it to become a larger base in the future.
Inference
NVIDIA is tapping the deep learning inference opportunity with its new Tensor Core GPUs and TensorRT software. It launched the beta version of T4 Tensor Core GPU on Google (GOOG) Cloud in January. Jensen Huang stated that inference, at present, contributes less than 10% towards the company's Data Center revenue but represents a significant growth opportunity. Even Intel (INTC) is looking to tap the inference market with its Xeon CPUs.
Rendering
Jensen Huang stated that its Turing GPU architecture has opened a whole new market of rendering. NVIDIA will launch Turing-based data center GPUs for rendering server farms. He added that NVIDIA will leverage the real-time ray tracing and Deep Learning Super Sampling capabilities of Turing architecture in workstations, data centers, clouds, rendering, and gaming.
Next, we will look at NVIDIA's Automotive and Professional Visualization businesses.
Check out all the data we have added to our quote pages. Now you can get a valuation snapshot, earnings and revenue estimates, and historical data as well as dividend info. Take a look!