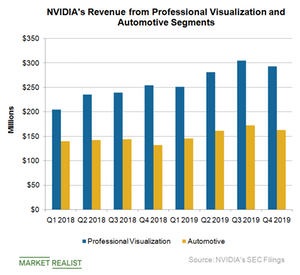 Here Are NVIDIA's Future Growth Drivers
NVIDIA's future growth platforms
So far, we have looked at factors driving NVIDIA's (NVDA) revenue in the gaming and data center markets where it is already a leader. The two markets together account for 80% of the company's revenue. The remaining 20% of the revenue comes from its ProV (Professional Visualization) and Automotive businesses where growth is yet to pick up. These two segments will likely drive NVIDIA's earnings in the future.
Article continues below advertisement
NVIDIA's Professional Visualization business
NVIDIA's ProV revenue rose 15% YoY but fell 4% sequentially to $293 million in the fourth quarter of fiscal 2019. For the full-year fiscal 2019, ProV revenue rose 21% YoY to $1.13 billion.
ProV business earns revenue by supplying Quadro GPU for workstations used for developing data science, AI (artificial intelligence) and VR (virtual reality) applications. At the fiscal 2019 fourth-quarter earnings call, NVIDIA's CEO Jensen Huang stated that its ProV business has three growth drivers, rendering workstation, data science workstation, and thin mobile workstation.
HP Inc. (HPQ), Dell, and Lenovo have launched Quadro RTX-powered workstations. Moreover, NVIDIA has secured new contracts from Boeing, LinkedIn, Google (GOOG), and Toyota for AI and robotics applications.
Automotive
NVIDIA's Automotive business shifted its focus from infotainment solutions to AV (autonomous vehicle) and next-generation AI cockpit solutions. NVIDIA's Automotive revenue rose 23% YoY but fell 5% sequentially to $163 million in the fourth quarter of fiscal 2019. For the full-year fiscal 2019, Automotive revenue rose 15% YoY to $641 million.
NVIDIA's shift to autonomous vehicle solutions could boost its Automotive earnings in fiscal 2021 when it starts production of the world's first commercially available level two plus self-driving car computer DRIVE AutoPilot. This solution could help NVIDIA enter the AV mainstream market.
Overall, it seems like NVIDIA will face a tough fiscal 2020 before returning to strong growth in fiscal 2021.
Check out all the data we have added to our quote pages. Now you can get a valuation snapshot, earnings and revenue estimates, and historical data as well as dividend info. Take a look!