FedEx Focuses on Cost-Cutting Measures to Boost Profitability
FedEx's (FDX) fiscal 2019 third-quarter adjusted EPS of $3.03 fell 18.5% from its EPS of $3.72 in the third quarter of fiscal 2018.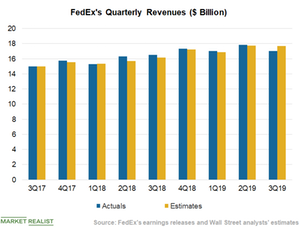 Falling profits
FedEx's (FDX) fiscal 2019 third-quarter adjusted EPS of $3.03 fell 18.5% from its EPS of $3.72 in the third quarter of fiscal 2018. Slowing revenue growth, rising operating expenses, and increasing TNT Express integration costs are weighing on the company's profits and margins.
The delivery giant's third-quarter YoY (year-over-year) revenue growth of 2.9% was its slowest in the last 14 quarters. Moreover, its operating expenses increased 11.2% YoY to $4.7 billion.
Article continues below advertisement
Article continues below advertisement
A delay in the integration of TNT Express and rising costs associated with the same also weighed on FedEx's margins and bottom line results. The company purchased European logistics company TNT Express in 2016 for $4.8 billion. However, the requirement of regulatory and employee union approval across several countries is causing a delay in the integration process.
The company expects to complete the process by the end of fiscal 2021, and it expects total integration costs to be over $1.5 billion. In fiscal 2019, FedEx expects to incur $435 million worth of integration expenses for TNT Express.
Cost-cutting initiatives
To compensate for the slowing revenue growth trend and improve its margins and earnings, FedEx is working to curb its expenses. Amid its cost-cutting efforts, FedEx has launched its voluntary buyout program for US employees, limited hiring, and lower discretionary spending.
During its fiscal 2019 third-quarter earnings release, the company stated that the majority of its voluntary retirement scheme would be offered to its employees in the FedEx Express and FedEx Services business units. Currently, of its total global workforce of ~450,000, the Express division has 227,000 employees, while the Services division has 30,000.
FedEx's voluntary buyout program should be completed during the fourth quarter. The program will lead to a one-time pretax expense of $450 million–$575 million for the company. The strategy is projected to bring the company annualized savings of $225 million–$275 million starting in fiscal 2020.
Investors seeking exposure to FedEx and other logistics companies might want to invest in the iShares Transportation Average ETF (IYT). IYT's top four holdings are Norfolk Southern (NSC), FedEx, Union Pacific Corporation (UNP), and United Parcel Service (UPS), in which it has allocated 10.5%, 10.5%, 9.7%, and 6.5%, respectively, of its total funds.
Next, we'll see how FedEx stock has performed in the last year.