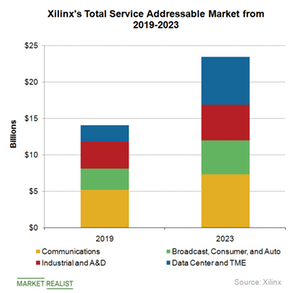 Data Center Market to Drive Xilinx's Future Growth
Xilinx's TAM
Xilinx (XLNX) has started realizing the benefits of 5G (fifth generation) and AI (artificial intelligence) opportunities. The advent of AI and data explosion has created the need for scalable technology that can adjust to dynamic needs.
Xilinx's FPGAs (field programmable gate arrays) are programmable at the chip level and deliver scalable solutions. Unlike GPUs (graphics processing unit), FPGAs can change the data path and memory to reduce latency and improve power efficiency, making them ideal for a low-batch performance.
Xilinx expects its TAM (total addressable market) to grow at a compounded annual rate of 13% from $14 billion in fiscal 2019 to $23 billion in fiscal 2023. This growth would largely come from the data center market while communications will continue to be Xilinx's biggest market.
Article continues below advertisement
Communications
Xilinx's FPGAs are commonly used in communications infrastructure and it would have a TAM of $7.3 billion by fiscal 2023, growing at a compounded annual rate of 9%. The adoption of 5G will connect everything to the Internet. An increasing number of devices will increase the demand for faster bandwidth and intelligent networks that can transfer a huge amount of data and process it in real time.
At its 2018 Investor Day, Xilinx presented a case study where its RFSoC (radio frequency system-on-a-chip) helped a wireless network provider reduce the chip count in a MIMO (multiple-input and multiple-output) radio from 24 to just four. This halved the provider's power consumption and reduced its physical footprint by 77%. Xilinx's dollar content in the system increased by more than 35%.
Back in 2016, NVIDIA's (NVDA) GPUs made a breakthrough in the AI data center space by offering cost, power, and space savings to cloud companies while increasing computing performance.
Data center
For Xilinx, the Data Center and TME (test, measurement, and emulation) market present a TAM of $6.6 billion by fiscal 2023, growing at a compounded annual rate of 30%. The data center market alone is expected to grow at a compounded annual rate of 67% to $4.6 billion by fiscal 2023. In the data center space, Xilinx will grow in areas of computing, network, and storage, with strong growth coming from machine learning inference as FPGA-as-a-Service.
Automotive
Xilinx expects its automotive TAM to grow at a compounded annual rate of 18% to $2.7 billion by fiscal 2023 with the growing adoption of ADAS (advanced driver assistance systems), which needs a low latency, power-efficient, scalable computing solution. Xilinx's Zynq-7000 SoC series is designed for embedded applications like multi-camera ADAS and 4K2K Ultra-HDTV (high definition television).
Check out all the data we have added to our quote pages. Now you can get a valuation snapshot, earnings and revenue estimates, and historical data as well as dividend info. Take a look!