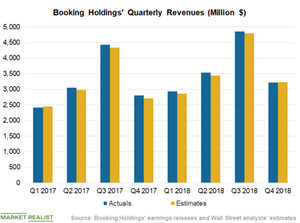 Booking's Prepaid Business Model Drove Q4 Revenues Higher
By Anirudha Bhagat

Aug. 18 2020, Updated 6:15 a.m. ET
Fourth-quarter top-line performance
Booking Holding's (BKNG) fourth-quarter 2018 revenues jumped 14.6% YoY to $3.2 billion. The company's sustained focus on investing in alternative accommodations, marketing, technology, and people has been driving its revenues.
During the fourth quarter, the online travel agency recorded revenue growth across all its business segments. Revenues for the Agency division increased ~9%, Merchant unit sales grew 37.7%, and Advertising and Other business revenues improved 14.5%. Booking registered a 13% YoY increase in room nights booked, which reached 171 million in the fourth quarter. However, rental car days and airline tickets booked fell by 0.6% and 1.3%, respectively.
Article continues below advertisement
Prepaid model remains the key growth driver
The majority of revenue growth was mainly driven by Booking's merchant or prepaid hotel booking business. In the fourth quarter, Merchant segment revenues increased 37.7% YoY to $701 million.
For the last two years, Booking has been making a big push toward the prepaid hotel model, which is now paying off as reflected in its 2018 results. In 2018, the Merchant division's revenues jumped 40% YoY to ~$3 billion and accounted for ~21% of Booking's total revenues compared with 17% in 2017.
During the quarter, Booking revealed that the majority of prepaid hotel booking growth is happening in Asia. The major benefit of this model is that it brings a higher commission than the traditional agency booking model where customers have to pay at the hotels. In the fourth quarter, its prepaid merchant bookings grew a whopping 45.8%, while the traditional pay-at-hotel or agency bookings increased just 1.4%.
Article continues below advertisement
Additionally, under the prepaid model, Booking collects cash from customers at the time of the reservation. However, it remits payment to hotels only after customers complete their stay at the hotel. Generally, travelers book accommodations months ahead of their actual visit, so the cash collected from them remains with the company for free, which it can utilize to invest in new projects.