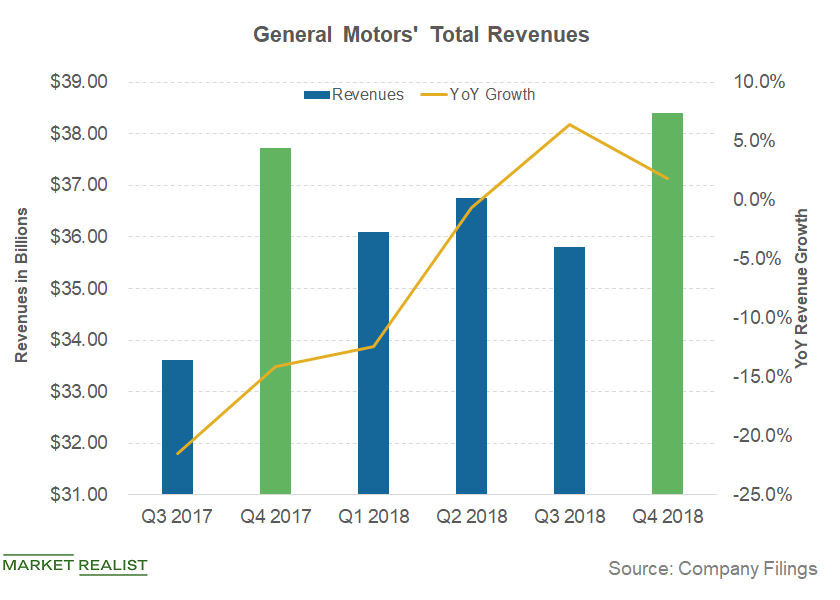 Analyzing the Recent Trend in GM's Revenue
By Jitendra Parashar

Mar. 21 2019, Published 11:05 a.m. ET
General Motors' revenue
In the fourth quarter of 2018, General Motors' (GM) revenue rose 1.8% YoY (year-over-year) to $38.4 billion. While the company's revenue fell in the first half of 2018, it rose on a YoY basis in the second half.
Let's take a quick look at some of the factors that helped GM drive its revenues up in the last couple of quarters.
Article continues below advertisement
Sales drop
In the fourth quarter of 2018, GM's total home market sales fell 2.7% YoY to 0.78 million vehicle units compared to 0.80 million vehicle units in the fourth quarter of 2017. Among the company's key brands, GMC vehicles rose 3.5% YoY in the fourth quarter. During the same period, the sales of General Motors' other brands Buick, Cadillac, and Chevrolet fell 13.7%, 2.7%, and 3.2%, respectively, in the US market (IYK).
In 2018, GM's total home market vehicle sales fell 1.6% YoY. In contrast, its total new vehicle sales in the US market rose marginally by 0.3% YoY, according to the data compiled by MarkLines.
What drove revenue?
Despite its lower sales in 2018, the company's revenue rose 1.0% YoY to $147.0 billion. These gains were primarily driven by GM's increased focus on its line-ups of pickup trucks and SUVs, which are typically sold at higher prices than its small passenger cars.
In the last couple of years, legacy automakers, including GM, Ford Motor Company (F), Fiat Chrysler Automobiles (FCAU), and Toyota Motor (TM), have tried to improve their SUV and pickup truck line-ups in the United States to take advantage of rising demand for such vehicles.
Next, we'll take a closer look at the recent trend in General Motors' profit margins.