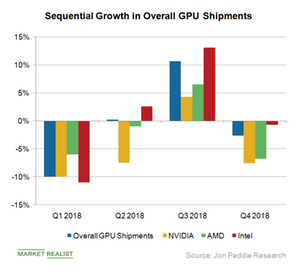 A Look at the Discrete GPU Market in 2018 and 2019
By Puja Tayal

Mar. 12 2019, Published 11:05 a.m. ET
How was 2018 for the GPU market?
In late 2017 and early 2018, Advanced Micro Devices (AMD) and NVIDIA (NVDA) witnessed windfall gains from the GPU (graphics processing unit) market as they benefited from unexpected demand from crypto miners. At that time, they didn't launch any new GPUs but focused on increasing supply to make GPUs available to gamers at a reasonable price.
The companies increased their supply in the first quarter of 2018, and in the very next quarter, crypto demand started to fade. In the third quarter, NVIDIA launched its next-generation Turing-based RTX gaming GPUs to boost its gaming revenue in the fourth quarter.
Article continues below advertisement
However, the Turing GPU's adoption was slower than expected, as there weren't many games that supported its revolutionary real-time ray tracing feature. Moreover, there was a sudden rise in the channel inventory for midrange GPUs, which forced NVIDIA to stall shipments of its midrange GPUs for a quarter and delay the launch of its midrange Turing GPUs. This development saw NVIDIA's discrete GPU shipments fall 7.6% in the fourth quarter.
How will 2019 be for GPU inventory?
While NVIDIA has stated that its excess GPU inventory will be cleared in the first quarter of 2019, AMD believes it will take another quarter for its inventory to clear. Dr. Jon Peddie, Jon Peddie Research's president and founder, stated in the organization's latest report that GPU shipments would fall further in the first half of 2019 due to excess inventory. He believes that GPU sales will bottom out before they begin to rise in the second half. The above statements indicate that the worst is yet to come.
AMD and NVIDIA are using the first half to launch their new gaming GPUs, which should help them boost their revenues this holiday season. We'll look into this possibility next.