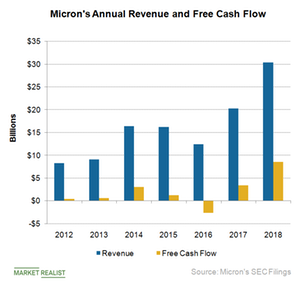 A Look at Micron's Strategy to Handle Memory Market Dynamics
By Puja Tayal

Mar. 19 2019, Updated 11:19 a.m. ET
Memory market dynamics
Micron Technology (MU) operates in a highly cyclical memory market, where memory prices are governed by demand and supply forces. When demand overtakes supply, prices rise to create an industry upside. Suppliers increase the supply to meet demand.
If supply overtakes demand, prices fall, creating an industry downside, which encourages suppliers to lower their capital spending. If supply falls more than demand, the cycle starts all over again.
The memory industry is currently on the downside. A DRAMeXchange report recently showed that first-quarter PC dynamic random-access memory contract prices had fallen ~30%, the sharpest decline in eight years. When prices fall, demand usually rises and absorbs the excess supply.
Article continues below advertisement
Why is the current memory cycle different?
This time, though, demand didn't rise, as the weak macroeconomic environment created by the US-China trade war reduced end-consumer demand in the mobile, graphics, and server space. As end-market demand was low, the memory chips stocked by PC and mobile OEMs (original equipment manufacturer) for the holiday season were not absorbed, creating excess inventory. The higher inventory contributed to lower memory chip demand from OEMs, causing memory prices to fall.
The demand situation is unlikely to improve before the second half of 2019, and some analysts expect this situation to extend until the third quarter. Despite such market weakness, Micron and Western Digital (WDC) have risen 17.3% and 28.7%, respectively, year-to-date. Let's see why.
Micron's business dynamics
With every cycle, Micron's losses have reduced as it has improved its fundamentals. At the 2015 peak, Micron's fiscal 2015 revenue was $16 billion, and its net debt (total debt minus cash reserves) was $3.9 billion. At the 2018 peak, Micron's fiscal 2018 revenue was $31 billion, and its net cash position was $2.8 billion.
Micron reduced its debt during the last uptrend and improved its production cost per bit by investing in advanced technologies, which helped it close the cost gap with its competitors. Low costs will help Micron maintain positive cash flow or break even in the downturn and grow its cash flows faster in an uptrend.
Micron's improved fundamentals are visible in its efficiency ratios. We'll look at these ratios next.