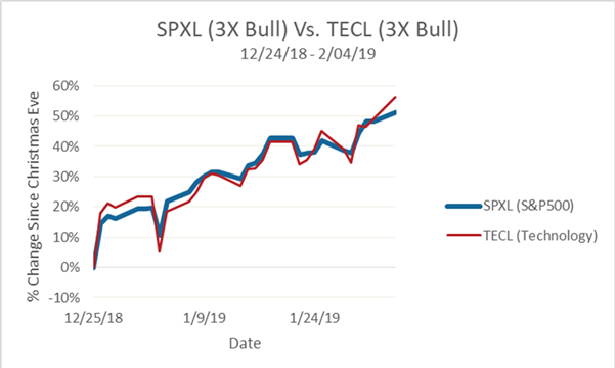 Will tech stocks continue to lead the way?
By Direxion

Aug. 12 2019, Updated 2:14 p.m. ET
The NASDAQ Composite Index has led the major indices in 2019 with a return of 11.4% year-to-date. This outperformance date may be because it took it on the chin worse than the Dow Jones Industrial Average and the S&P 500 Index in the fourth quarter of 2018. But it may also be because the companies within it have much higher growth rates, on average, than in the other indices and because they have much more to gain if a trade deal is reached with China, especially if the deal resolves the issues related to forced technology transfer.
Article continues below advertisement
Basically, investors tend to favor value and dividend stocks when they are uncertain about the direction of the market, but they tend to favor growth stocks when they are optimistic, and the tech sector is where investors go when they seek growth. Clearly, investors are optimistic about the trade negotiations with China and the overall economic environment, so tech stocks may very well continue to lead the way higher until a deal is reached, and they will likely soar when a deal is officially announced. But as of now, tech earnings growth does not look spectacular in 2019. Will we get a deal in China? Will Apple and others continue their comeback (including an earnings comeback)? TECL (3X Bullish) and TECS (3X Bearish) can help in either case. There is very little divergence here from the S&P 500 itself.
Source: Bloomberg. 12/24/18-2/04/19 Past performance is not indicative of future results. Investment return and principal value of an investment will fluctuate so that an investor's shares, when redeemed, may be worth more or less than their original cost. Current performance may be lower or higher than the performance data quoted. For standardized performance, click here.
Will defensive stocks hold back the communications services sector?
Article continues below advertisement
After a big reshuffling in September, the S&P Communications Services sector was launched, and it includes superstars from the technology sector like Facebook, Alphabet, and Netflix, along with those that would be considered "traditional" communications stocks, including AT&T and Verizon. And early in 2019, Direxion launched leveraged ETFs to keep up with the changing times. The new ETFs are TAWK (3x Bullish) and MUTE (3X Bearish). The new sector was launched to help better reflect how the world's population communicates and shares information, and the mix of growth stocks with defensive stocks helps create a sort of balance.
Alphabet, Facebook, and Netflix carry the three largest weightings in the communication services sector, but the final seven that make up the top ten would all be considered value or defensive in nature, which may hold the sector back in February and beyond. Investors are craving growth over value right now, so while Alphabet, Facebook, and Netflix may post solid returns, they may be largely offset by weakness in defensive stocks like Verizon, Twenty-First Century Fox, AT&T, Comcast, and Charter Communications. TAWK is up an impressive 20% since its inception in mid-January.