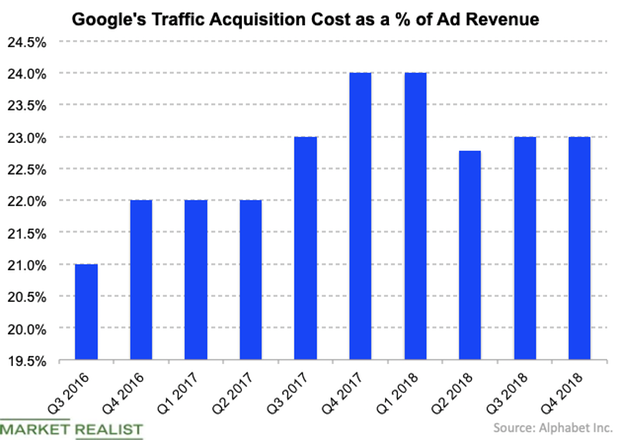 Why Google's Pricing Power Is Eroding
By Sanmit Amin

Feb. 5 2019, Published 11:22 a.m. ET
Alphabet's operating margin is getting squeezed
Alphabet's (GOOG) operating margin is getting squeezed. In the fourth quarter, the company's operating margin was 20.88% compared to 23.7% in the corresponding quarter in 2017 and 24.62% in the third quarter of 2018.
A major driver of Alphabet's narrowing margins has been surging traffic acquisition costs. These are the costs Google has to bear to make its search engine the default on devices such as Apple's.
These costs have surged over the years. In the fourth quarter, Alphabet posted traffic acquisition costs of $7.4 billion in the fourth quarter, a 15.3% rise YoY (year-over-year).
Article continues below advertisement
These factors are a drag on Google's margins
However, as the graph above shows, traffic acquisition costs as a percentage of Google's ad revenue have been steady over the last few quarters, meaning that they haven't been outgrowing its ad revenue. Lately, though, other factors have also been hampering the tech giant's operating margins.
The cost per click on Google properties is a gauge of the amount the company charges publishers for each ad served. This figure fell a jaw-dropping 29% YoY in the fourth quarter and 9% sequentially, suggesting that Google's pricing power for ads may be eroding. This development stands in stark contrast to Google's rival Facebook (FB), which was able to eke out much more from its lucrative US and Canada region despite stagnating user growth there. Advertisers don't seem to be deterred by the increasing privacy lapses happening at Facebook. They continue to spend on the platform, which has tremendous reach.
Alphabet has been burning money on research and development. The company spent $6.0 billion on research and development in the fourth quarter, up 40.1% YoY.
Hefty European commission antitrust fines have also been a drag on Alphabet's annual reports in the last two years.