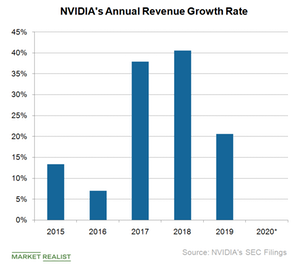 NVIDIA, AMD, and Intel Expect Strong Growth
NVIDIA's fiscal 2020 first-quarter guidance
Previously, we discussed that NVIDIA (NVDA) stock rose despite weak earnings for the fourth quarter of fiscal 2019. Analysts and investors feared the worst after the company lowered its earnings estimate on January 28. The revenues fell when NVIDIA got caught between excess GPU (graphics processing unit) inventory, the slowing demand environment, and the launch of an expensive product that's too advanced for the current ecosystem, which slowed its adoption. These headwinds will take one to two quarters to subside.
Article continues below advertisement
NVIDIA expects its revenues to fall 31% YoY to $2.2 billion in the first quarter of fiscal 2020. The revenues are expected to miss analysts' estimate of $2.8 billion. Advanced Micro Devices (AMD) and Intel (INTC) also expect their revenues to fall 24% and 0.5% YoY, respectively, in the first quarter. Seasonal weakness is expected to add to the overall demand slowdown.
NVIDIA's outlook for fiscal 2020
During the earnings call for the fourth quarter of fiscal 2019, NVIDIA's CEO, Jensen Huang, stated that normal business dynamics will return in the second half of the year after the headwinds pass. The gaming and data center dynamics remain the same. He expects China's economy to recover and demand to resume especially in gaming laptops. He stated that more than 40 gaming laptops featuring NVIDIA's mid-range RTX 2060 GPUs are set to launch this year.
AMD also expects the demand to increase in the second half of the year as the excess GPU inventory is sold off and new products ramp up. Intel shared a similar outlook.
NVIDIA expects its revenues to remain flat or decline slightly in fiscal 2020. NVIDIA's outlook is in line with Intel's outlook of 1% annual growth but below AMD's outlook of 8%–9% growth in 2019. AMD and Intel's growth outlook sent AMD stock up 20% but pulled Intel stock down 5.5% a day after its fourth-quarter earnings. NVIDIA stock could rise ~10% on February 15. The stock has fallen 3.5% since it lowered its guidance.
Check out all the data we have added to our quote pages. Now you can get a valuation snapshot, earnings and revenue estimates, and historical data as well as dividend info. Take a look!