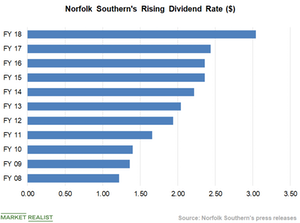 Norfolk Southern's Aggressive Shareholder Return Plan
By Anirudha Bhagat

Dec. 4 2020, Updated 10:52 a.m. ET
Impressive dividend yield
Norfolk Southern (NSC) has always tried to enhance shareholders' wealth through dividend payments and share repurchases. Dividends and share repurchases signify a company's sound financial position and give investors confidence in its stock.
Norfolk Southern's dividend rate has been among the fastest-growing dividend rates in the railroad industry (XLI). From 2008 to 2018, the company's dividend grew at a compound annual growth rate of over 9.6%. In 2018, the airline's annualized dividend rate was $3.04 per share, which is ~25% higher than in 2017.
Norfolk Southern has one of the highest dividend yields among its peers at 1.9%. CSX (CSX) and Kansas City Southern (KSU) each have dividend yields of 1.3%. Union Pacific (UNP) has the highest dividend yield of 2.1% among Class I railroad companies.
Norfolk Southern's dividend payout ratio of 31.7% is the second-highest ratio among its peers. Union Pacific has the highest payout ratio of 36.7%. Kansas City Southern and CSX hold the third and fourth spots with ratios of 24.2% and 22.8%, respectively.
Article continues below advertisement
Share repurchases
Norfolk Southern has also been enhancing shareholders' wealth through aggressive share repurchases. Share buybacks are believed to be a more tax-efficient way to enhance shareholders' returns than dividend payments. Since share buybacks lead to a decline in the number of outstanding shares, they boost a company's EPS.
Since initiating the first share buyback program in 2006, Norfolk Southern has repurchased ~185.6 million of its common stock at a total cost of ~$14.1 billion. The railroad repurchased 17.1 million and 8.2 million shares in 2018 and 2017 for $2.8 billion and $1 billion, respectively.