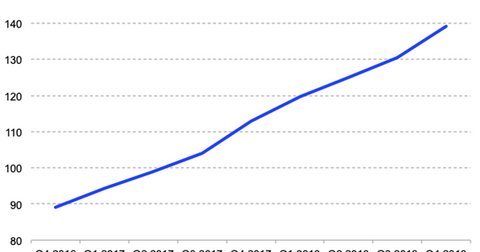 Netflix Achieves Highest Customer Satisfaction for Originals
By Sanmit Amin

Updated
Netflix is slated to spend $15 billion on content this year
Video streaming giant Netflix (NFLX) has been spending billions of dollars on original content in the last few years. One thing that Netflix has been consistent with is the quality of its original content in general, which has been the main reason why it has been able to attract a huge loyal base around the world.
Netflix is expected to throw in more capital for original content. The company's content head Ted Sarandos said last year that the company could spend as much as $15 billion on content this year, and about 85% of that will be used for original content. While this will drain the company's free cash flow and the balance sheet strength in the short term, it will likely pay rich dividends to the company in the long run.
Article continues below advertisement
Netflix got an ASCI score of 81 in February
According to a new report by the American Customer Satisfaction Index (or ACSI), streamers gave Netflix's original content a score of 81 out of 100, as of February 2018, an increase of 2.5% since the ACSI survey in May 2018.
Netflix's rival, AT&T's (T) HBO, had a score of 79, an increase of 2.6% in the same period. Amazon's (AMZN) Prime Video had a score of 76, an increase of 4%. Meanwhile, Hulu's original content drew a score of 75, an increase of 1.4% from the May report.
Netflix launched a slew of new originals over the holiday season as it continues to add more to make up for the Disney (DIS) content it will lose this year, as the media giant is launching its own streaming service later this year.
On the basis of customer satisfaction, Netflix's recent hike in prices across all plans in the US may boost revenue, as viewers may not balk at new prices given the library of quality content Netflix has. We'll know the result of higher prices on subscriber growth in the coming quarters.