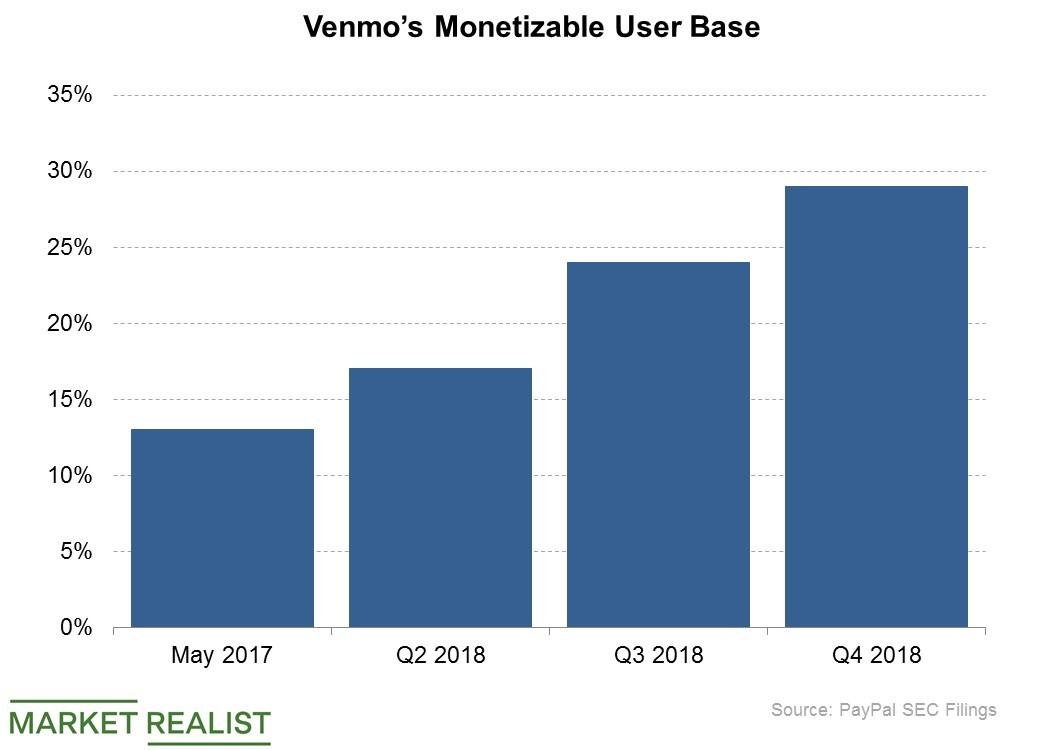 How PayPal's Venmo Is Crushing the Competition
By Neha Gupta

Feb. 20 2019, Updated 12:55 p.m. ET
Venmo's monetizable base expands to 29%
Peer-to-peer payment service Venmo is one of PayPal's (PYPL) most visible products. And if you ask PayPal's CEO, Dan Schulman, Venmo has become a crown jewel for the company. The executive spoke to Bloomberg TV early this month and, among other things, disclosed that Venmo had been adding a record number of new active users over the past three consecutive quarters.
PayPal currently doesn't disclose Venmo's user numbers. However, Venmo's monetizable base has continued to expand, reaching 29% in the fourth quarter from 24% in the third quarter.
Article continues below advertisement
PayPal is making almost no effort to market Venmo
Interestingly, Venmo is growing by leaps and bounds, yet PayPal is making almost no effort to market it, according to the PayPal boss. This development suggests that Venmo was not responsible for the nearly 19% YoY (year-over-year) increase in PayPal's marketing expenses to $389 million in the fourth quarter.
Venmo's competitors
Venmo's competitors include Square's (SQ) Cash App, Apple's Apple Pay Cash, and the bank-sponsored Zelle. Square reported having more than 7.0 million active users on its Cash App service at the end of 2017, the last time it disclosed the service's user base.
Google (GOOGL) and Facebook (FB) also provide services that let people send and receive money on their platforms, such as Messenger in the case of Facebook. Snap (SNAP) used to have a peer-to-peer payment service called Snapcash, but it shut it down last year amid tepid user interest.