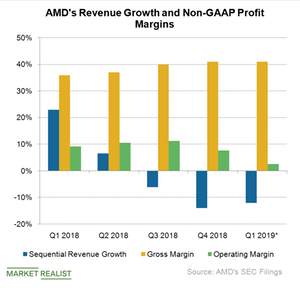 Can Operating Leverage Keep AMD Profitable despite Weak Revenue?
AMD's operating leverage
Previously, we saw that Advanced Micro Devices (AMD) is increasing its gross margin by increasing the mix of its new higher-margin products. For the last two years, the company was focused on product execution, which helped it improve earnings and gain market share. In 2019, AMD plans to transition to the next-generation 7-nm (nanometer) Ryzen, EPYC, and Radeon processors, which will likely increase its go-to-market cost.
While the operating expenses are increasing, AMD's revenue is falling due to demand slowdown and excess GPU (graphics processing unit) inventory in the channel because of the crypto bubble burst. Lower revenue and higher expense have lowered AMD's operating margin.
Article continues below advertisement
In the fourth quarter of 2018, AMD's operating expense rose 9.5% sequentially, while its revenue fell 14%, reducing its non-GAAP (generally accepted accounting principle) operating margin by 360 basis points to 7.7%. AMD's profitability was better than rival Intel (INTC) whose operating margin fell by 430 basis points sequentially and NVIDIA (NVDA) whose operating margin is expected to fall by 2000 basis points sequentially.
Operating margin guidance for 2019
AMD expects demand weakness to continue in the first quarter of 2019 with revenue expected to fall 12% sequentially. However, it expects operating expenses to rise 1.2% sequentially resulting in an operating margin of 2.6%, its lowest margin in eight quarters. However, things will likely start to improve from the second quarter of 2019 as GPU inventory clears off and sales of new 7-nm products pick up.
AMD expects revenue to grow sequentially but fall YoY in the second quarter. It expects revenue growth to accelerate in the second half of 2019 when its 7nm Ryzen and EPYC products hit the market. The higher revenue will give AMD a broader base to absorb higher operating expenses and improve its operating margin. For full-year 2019, AMD expects to improve its operating margin by 220 basis points YoY to 12%.
Despite improved profits, AMD failed to become free cash flow positive in 2018. Next, we will look at AMD's cash flows and balance sheet.
Check out all the data we have added to our quote pages. Now you can get a valuation snapshot, earnings and revenue estimates, and historical data as well as dividend info. Take a look!