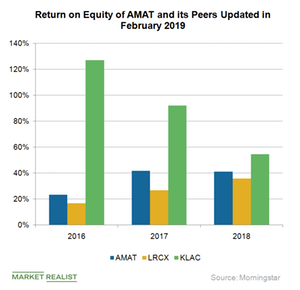 Can Applied Materials Maintain High Efficiency Ratios in 2019?
Efficiency ratios
So far, we saw that Applied Materials (AMAT) enjoyed strong profits and revenue over the last two years, which improved its operating efficiency. In fiscal 2018, AMAT's revenue rose 19% YoY to $17.25 billion, while its non-GAAP (generally accepted accounting principle) net income rose 29.6% YoY to $4.57 billion, or 26.5% of the revenue. The net income rose faster than revenue as the company improved its operating efficiency. The company's efficiency ratio tells us the management's ability to deliver maximum returns from minimum investments.
Article continues below advertisement
Return on equity
A stock's ROE (return on equity) shows the net income a company can generate from shareholder capital. A company can improve its ROE by repurchasing shares, by improving net income, or by reducing debt.
Applied Materials improved its ROE from 23.2% in fiscal 2016 to 40.9% in fiscal 2018, which ended October 28, 2018, by improving its net income and repurchasing shares. AMAT's fiscal 2018 ROE is higher than rival Lam Research's (LRCX) fiscal 2018 ratio of 35.75% but lower than KLA Corporation's (KLAC) 54.45%. KLAC's ratio is higher than the other two, as it enjoys higher profit margins.
KLAC's and LRCX's fiscal 2018 ended in June 2018, four months before AMAT's fiscal 2018, which ended in October 2018. KLAC and LRCX have already completed the first half of their fiscal 2019 and during this time, their TTM (trailing 12 months) ROE has improved. KLAC's ROE improved from 54.45% in fiscal 2018 to 100.64% in the TTM to January 2019, and LRCX's ROE improved from 35.75% to 48.6%.
In this series, we learned that AMAT is set to underperform KLAC and LRCX by reporting larger revenue and profit declines in fiscal 2019 than its rivals, which could pull down AMAT's efficiency ratio in fiscal 2019. It remains to be seen how the company's management maintains its efficiency ratio in fiscal 2019.
Check out all the data we've added to our quote pages. Now you can get a valuation snapshot, earnings and revenue estimates, and historical data as well as dividend info. Take a look!