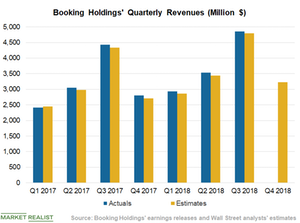 Booking Holdings' Prepaid Business Model to Drive Q4 Revenues
By Anirudha Bhagat

Updated
Revenue projection
Apart from a healthy travel demand environment, Booking Holdings' (BKNG) sustained focus on investing in marketing, alternative accommodations, people, and technology could continue driving its revenues.
Analysts forecast the company's fourth-quarter 2018 revenues to increase 15% YoY to $3.22 billion. During the third quarter earnings release, Booking Holdings' management projected revenues to grow in the range of 13%–16%. Considering the midpoint growth rate of 14.5%, the online travel agency's top line is projected to come in at $3.21 billion.
Article continues below advertisement
Merchant business to drive revenues
The majority of revenue growth is anticipated to be mainly driven by the company's merchant or prepaid hotel booking business. For the fourth quarter, analysts project Merchant segment revenues to increase 45.7% YoY to $741.1 million.
The company had been making a big push toward the prepaid hotel model for the last two years, which is now paying off as reflected in its third-quarter 2018 results. In the third quarter, the Merchant division's revenues jumped 53.4% YoY to $1.05 billion and accounted for ~22% of Booking Holdings' total revenues.
The company during the quarter revealed that the majority of prepaid hotel booking growth is happening in Asia, where it operates its Agoda brand. The major benefit of the merchant hotel booking model is that it brings a higher commission than the traditional agency booking model where customers have to pay at the hotels. In the third quarter, its prepaid merchant bookings grew a whopping 65.7%, while the traditional pay at hotel or agency bookings increased just 2.3%.
Article continues below advertisement
Additionally, under the merchant model, the company collects cash from customers at the time of reservation. However, it remits payment to hotels only after customers complete their stay at the hotel. Generally, travelers book accommodations months ahead of their actual visit, so the cash collected from them remains with the company for free, which it can utilize to invest in new projects. Analysts believe that the growth trend in the merchant booking model could continue to drive its fourth-quarter total revenues.
Peers' performance
Online travel agencies (IYW) TripAdvisor (TRIP) and Expedia (EXPE) have reported their fourth-quarter results earlier this month. The companies recorded 8% and 10% YoY growth in their respective revenues.
Another peer, Ctrip.com International (CTRP) will report fourth-quarter results next month, and analysts project a 12% increase in the revenues.