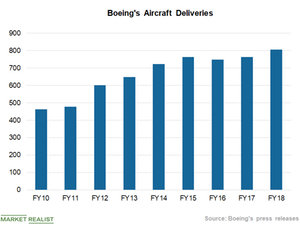 Boeing Ramps Up Production for Its 737 Jets to Drive Revenue
By Anirudha Bhagat

Updated
Boeing to speed up 737 jet production
The Boeing Company (BA) will ramp up the production of its best-selling and most profitable 737 jet model in early June this year, Reuters reported yesterday, citing two people familiar with the matter. The company is reportedly planning to raise its monthly production rates for the 737 model to 57 from the current level of 52.
If the sources are to be believed, then the latest development is in line with Boeing's January 2016 announcement that it would strategically raise its monthly production of its 737 jetliners. In 2016, the company projected that it would increase the model's manufacturing count to 47 in June 2017, 52 in June 2018, 57 in June 2019, and 63 in June 2020. Last month, Boeing revealed that it had achieved its 2018 target of 52 jets in the middle of the year.
Article continues below advertisement
The production enhancement initiative is believed to be Boeing's strategy to keep up with soaring aircraft demand and stay ahead of its European rival Airbus. The approach will also help Boeing fulfill its backlog of 5,900 aircraft orders, which, at its current rate of production, it is expected to complete in the next seven years. Additionally, higher outputs mean higher deliveries, increasing revenue and cash flows for the company.
Last year, Boeing delivered a record 806 jets and surpassed its 2017 record shipment amount of 763. Strong aircraft deliveries helped boost the company's 2018 revenue 8% YoY to $101.13 billion, beating analysts' expectation of $99.7 billion as well as its own guidance range of $98 billion–$100 billion.
Boeing's major revenue driver: 737 jets
The 737 series aircraft is Boeing's most advanced and fuel-efficient airplane in the single-aisle category. The model has been one of the company's major revenue drivers in recent years. Top US airlines (JETS) United Continental (UAL) and American Airlines (AAL) have placed orders for 100 planes each, while Southwest Airlines (LUV) has placed an order for 280 planes.
Last year was the 11th straight year of annual production growth for Boeing. The most significant contributor to Boeing's 2018 deliveries was its 737 series airplanes. Of the manufacturer's total 806 jet shipments last year, 580 were 737 planes.
For 2019, the company expects to ship 895–905 aircraft and generate revenue of between $109.5 billion and $111.5 billion.