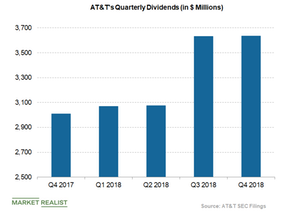 AT&T Continues to Focus on Reducing Its Debt Levels
By Sophia Nicholson

Feb. 13 2019, Updated 7:32 a.m. ET
AT&T's balance sheet
AT&T (T) ended the fourth quarter with an operating cash flow of $12.1 billion, capex of $4.2 billion, and a free cash flow balance of $7.9 billion.
Its free cash flow reached $22.4 billion in 2018, a rise of 36% from its 2017 levels. Its cash flow from operations also increased 14.7% YoY (year-over-year) to $43.6 billion. Its total capital spending fell to $21.3 billion in 2018 from $21.6 billion in 2017. For 2019, the company expects its free cash flow to increase ~16.1% YoY to $26 billion.
Article continues below advertisement
Focus on reducing debt
AT&T's debt levels have risen since the company acquired Time Warner in mid-June for $85.4 billion. Therefore, the company's priority remains the deleveraging of its business using its free cash flow. The company has also stopped offering promotional discounts for phone and TV plans to reduce its costs.
In the fourth quarter, the company paid off ~$9 billion in debt. Currently, AT&T has a debt load of $171 billion as of the end of 2018. AT&T's closest rivals Verizon (VZ), Sprint (S), and T-Mobile (TMUS) have net debt of $110.3 billion, $37.5 billion, $26.3 billion, respectively, as of the end of 2018.
For 2019, the company plans to use free cash flow of $12 billion (after paying out dividends) to reduce its debt and reach a net debt-to-adjusted EBITDA ratio of ~2.6x. Its debt-to-EBITDA was 2.8x in 2018. In November, the company said that it expected the ratio to fall to 2.5x in 2019, implying a debt reduction of ~$18 billion–$20 billion in the year. 
Dividends
AT&T's management remains committed to continuing to pay regular dividends. In the fourth quarter, the company spent $3.6 billion on dividends. AT&T raised its quarterly dividend by 2% to $0.51 per share, marking its rise in dividends for the 34th consecutive year. The new quarterly dividend is equivalent to an annual dividend of $2.04 per share and a dividend yield of 6.90% as of February 8.