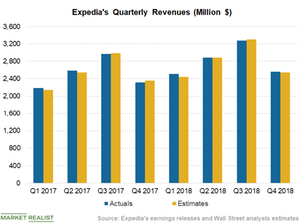 Analyzing Expedia's Q4 Revenues
Revenues by segment
Expedia's (EXPE) revenues rose 10% YoY (year-over-year) to $2.56 billion in the fourth quarter. The company reported revenue growth across all of its business segments. Expedia has four reportable segments—Core OTA, Egencia, HomeAway, and Trivago. The Core OTA segment contributed 78% of the company's revenues in the fourth quarter. Egencia contributed 6%, HomeAway contributed 9%, and Trivago contributed 7%.
Article continues below advertisement
The revenues in Expedia's Core OTA segment rose 10% YoY to $2.05 billion in the fourth quarter. The business unit's gross bookings grew 11% to $17.92 billion. The Egencia segment's sales increased 13% YoY to $155 million due to enhanced product offerings. The segment's bookings grew 10% YoY to $1.84 billion in the reported quarter.
The company reported a 20% YoY growth in its HomeAway segment, which reached $230 million mainly driven by a 20% rise in stayed property nights. The gross bookings increased 15% to $2.19 billion. Expedia's online bookable listings reached 1.8 million in the fourth quarter. Weakness at the Trivago (TRVG) subsidiary continued in the fourth quarter. Trivago's revenues fell 12% YoY to $190 million.
Revenues by product
Lodging accounted for 69% of Expedia's revenues in the fourth quarter, while revenues from air travel, advertising and media, and other sources contributed 8%, 9%, and 14%, respectively.
The revenues from the lodging business increased 10% YoY due to an 11% rise in room nights stayed. The increase was partially offset by a 1% fall in the revenues per room night. Expedia's air travel business had revenue growth of 18% YoY due to a 7% increase in the revenues per ticket and a 10% increase in air ticket volumes. The company's advertising and media revenues rose 9%. Higher sales of travel insurance products led to a 10% rise in other revenues during the quarter.
TripAdvisor (TRIP) reported its fourth-quarter results on February 12. The company's revenues increased 8% YoY.
Among online travel agencies (IYW), Ctrip.com International (CTRP) and Booking Holdings (BKNG) are expected to report 12.7% and 15% YoY growth in their respective fourth-quarter revenues.