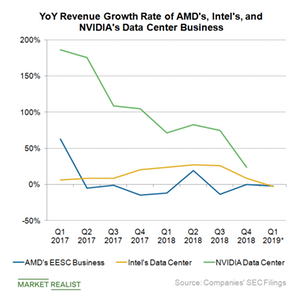 AMD's Data Center Business Is Set to Take Market Share from Intel
AMD's expectation from Rome
Previously, we learned that Advanced Micro Devices (AMD) gained server CPU (central processing unit) market share in 2018 as more and more cloud, HPC (high-performance computing), and enterprise customers adopted its first-generation EPYC CPU.
AMD is currently working on bringing its second-generation EPYC server CPU, built on TSMC's (TSM) 7 nm (nanometer) node, to the market in mid-2019.
On AMD's fourth-quarter earnings call, its CEO, Lisa Su, stated that the company's new CPU, Rome, is expected to deliver four times the floating point performance and double the computing performance of its predecessor, Naples. She also expects Rome to be adopted faster than Naples, as the former can work on the same motherboard and system as the latter.
Rome will put AMD ahead of Intel (INTC) in the process technology space, as Intel is unlikely to launch its 10 nm server CPU before 2020. Su expects the faster adoption of Rome and its technology advantage to help AMD double its server CPU market share to 10% in the next four to six quarters.
Article continues below advertisement
AMD's views on the data center market
AMD is growing in the data center market at a time when demand is slow. Both Intel and NVIDIA have reported a weak demand environment as data center consumers move to absorb the excess inventory that built up in the first nine months of 2018.
Su expects data center sales to be slow in the first quarter of 2019, but she expects sales to pick up later on the release of the company's Rome CPUs.
AMD's semi-custom business
In the semi-custom space, AMD expects its revenue to fall 20% YoY (year-over-year) as certain game consoles enter the seventh year of their production cycles. Su stated that the company would launch its 7 nm Navi GPU by the end of 2019. Rumors say that the first Navi GPU is being designed specifically for Sony's (SNE) next-generation game console. If the rumors are true, Sony might launch its next-generation PlayStation in 2020, driving AMD's semi-custom revenue.
AMD is executing strongly on its product road map to gain market share and boost growth even during a slowdown.