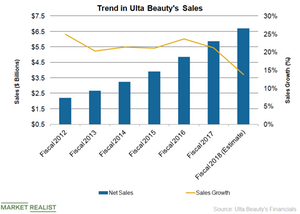 Will Ulta Beauty's Strategic Initiatives Boost Sales Growth?
Growth rate in fiscal 2018
Ulta Beauty's (ULTA) sales grew 17.4%, 15.3%, and 16.2% in the first, second, and third quarters of fiscal 2018, respectively. Overall, the company's sales grew 16.3% to $4.6 billion in the first nine months of fiscal 2018, which ended on November 3.
Ulta Beauty's same-store sales grew 7.5% in the first nine months of fiscal 2018. The sales growth in this period was driven by a 13.3% rise in retail store sales to $3.9 billion, a 42.9% increase in e-commerce sales to $457.9 million, a 9.8% rise in sales of salon services to $223.7 million, and other revenue of $32.5 million.
Ulta Beauty expects its fiscal 2018 sales growth in the low-teens percentage range and same-store sales in the 7%–8% range. Analysts expect sales to grow 13.8% to $6.7 billion in fiscal 2018.
Article continues below advertisement
Strategic initiatives
Ulta Beauty sees tremendous opportunity to grow its prestige cosmetics business. The company plans to expand the presence of established prestige brands like Clinique and Lancôme to more doors. The company is also bringing several digitally native brands to customers. Ulta Beauty introduced Kylie Cosmetics to its stores and online in November 2017.
The company continues to evolve its product assortment in the mass cosmetics category. Ulta Beauty is attracting customers with exclusive brands (like Morphe and ColourPop) and limited-distribution brands (like Flower and Essence Cosmetics) under its mass cosmetics business.
The company is also investing in technology to enhance consumers' shopping experience. The company invested in Spruce, an online booking tool that improves guests' experience with the company's salon business. Ulta Beauty also invested in a firm called Iterate, a digital workflow platform. It also acquired QM Scientific and GlamST to build AI capabilities and augmented reality so that the company can provide personalized solutions.
Ulta Beauty is also enhancing its service business through various initiatives, like the rollout of Skin Bar at Ulta Beauty. The company operated Skin Bar at 174 stores at the end of fiscal 2018's third quarter, and it aims to operate 188 stores with Skin Bar by the end of fiscal 2018.
Ulta Beauty's Ultamate Rewards loyalty program is a key growth driver for the company. The program's active members increased to 30.6 million by the end of the third quarter. Sales from the loyalty members accounted for over 95% of the company's fiscal 2018 third-quarter overall revenue.
We'll discuss expectations for the company's earnings in the next part of this series.