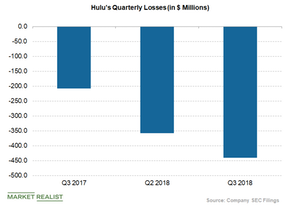 Why Is Hulu Posting Losses despite Its Strong Ad Revenue Growth?
Hulu posting losses
According to Hulu, its 2018 advertising revenue rose 45% to nearly $1.5 billion. Hulu is also adding subscribers and investing in original content and licensed series. It's added 8 million subscribers since January 2018 and nearly 22 million subscribers since January 2012.
Despite its strong subscriber growth, the Internet streaming service provider is piling up significant losses for its owners. Though Hulu does not report its numbers, according to the Securities and Exchange Commission filings of its parent companies, Hulu's annual losses are expected to stand at ~$1.5 billion, much higher than its losses of $920 million in 2017. Reportedly, the company's losses more than doubled to reach $440 million in the third quarter of 2018 compared to its losses of $207 million in the same quarter of the previous year.
Article continues below advertisement
High content spending
Hulu's losses are rising, as it's spending billions of dollars to build up its subscriber base amid competition from streaming giants such as Netflix (NFLX), Amazon Prime Video, and other live TV services. Hulu is also offering huge discounts, such as a subscription video on demand plan with ads for just $12 for the first year.
Hulu's shows cater to both adults and kids. Hulu's dark originals such as The Handmaid's Tale and Castle Rock have been very popular among adult users. Its offerings blend live TV and a large on-demand selection, including exclusive and original series.
In 2019, the Walt Disney Company (DIS) will obtain a 60% holding in Hulu after it closes its acquisition of 21st Century Fox (FOXA). The addition of Fox's assets will add FX's and Fox's programming to Hulu's robust content portfolio. Disney is also expected to focus on Hulu's premium content targeted at adults, while its upcoming Disney+ service will be aimed at kids and families. Disney will likely also be looking to expand Hulu to other international markets.
Currently, Disney and Fox each hold a 30% stake in Hulu. Comcast's (CMCSA) NBCUniversal also has a 30% stake, while AT&T's (T) WarnerMedia has a 10% stake in Hulu.